Disclosure: I was not compensated for this review, but the giveaway prize is being provided by Silk. As always, all opinions are my own.
********************
I'm back with another fun giveaway to keep the anniversary celebrations going!! Tomorrow is the official day, but who wants to celebrate only one day out of the year? I know I like to stretch out the fun as long as possible!
Today I'm featuring my favorite non-dairy milk – Silk!! There are a lot of non-dairy milk options available these days, which is great for those of us who choose not to drink milk or are lactose-intolerant. I use Silk Unsweetened Pure Almond Milk in many of my recipes featured here.
Why Silk?
It's almost overwhelming when you see all the options to choose from! At the beginning of this year, I switched to Silk and haven't looked back. The low calorie count originally caught my attention. I use Silk Unsweetened Pure Almond Milk, which is only 30 calories per serving. Since I tend to use a lot of milk every day, the lower calorie count is appealing to me.
In addition, it has 50% more calcium than dairy milk, good source of vitamin E, no artificial colors or flavors, and is verified by the Non-GMO project. All good things in my book! And it doesn't contain carrageenan, which I originally learned from Brittany is known to cause inflammation.
Of course, Silk also makes soy milk, coconut milk, iced lattes, fruit & protein smoothies, creamers, & more. So whatever your non-dairy milk related needs, they probably have you covered. 🙂
Silk Giveaway
Since this is a daily staple in my house, I was excited when the folks at Silk agreed to share their yummy products with you.  And big celebration calls for a big prize – 10 FREE cartons of Silk!! The winner will receive 10 coupons that you can use to stock up on your favorite Silk products. That's a lot of non-dairy milk!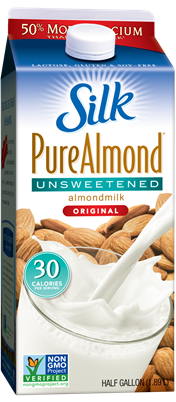 With those 10 coupons, you'll be ready to make lots of non-dairy milk recipes I've featured here over the past few years. Here's a few to get you started:
This giveaway is open through Saturday. Good luck!!!
******************
Don't forget to enter every giveaway this week – you can tweet daily for extra entries!