What does "healthy" mean to you? As someone who takes a holistic approach to health, I was surprised (and excited) to see that the definition includes 
"showing physical, mental, or emotional well-being".
Improving your health includes all three aspects then: physical, mental, and emotional. This aligns very nicely with the 5 pillars of health: nutrition, exercise, sleep, hydration, and stress management. If your healthy habits include all FIVE pillars, then you're going to continually improvements in your overall health & wellness.
Okay, but what exactly does that look like?
Dr David Hill (chief medical officer at doTERRA) outlined his recommendations for a daily routine a few months ago. This proactive approach touches on all 5 pillars and helps you take a proactive approach your improving your health.  Think of this as a foundational routine, that you can customize based on your specific health concerns over time.
Daily Healthy Habits Routine
Before we get to the specifics, let's look at why each healthy habit is included in the routine & how it supports your overall health & wellness. If you just want the details of the routine, skip to the bottom for a quick reference guide.
Nutrition
The foundation of any healthy lifestyle is nutrition, although I know many of us wish it wasn't the case. In both my personal experience and as a nutrition coach, focusing on choosing the right foods, in the right portions  and timing, is the best way to reach your goals.  But even when your nutrition plan is amazing, Even if your diet is SOLID, the declining nutritional quality of our food (thanks to soil quality, environment, etc) leaves us with gaps in our nutrition needs.
That's where supplements come in. They supplement (not replace) a healthy nutrition plan. Look for supplements with high bio-availability, whole foods based, and easily digestible to get the most for your money. So many of the common supplements on grocery store shelves are filled with synthetics and have too much or too little of the vital nutrients we really want.
This is why Dr Hill recommends the Lifelong Vitality Pack (the same supplements Kirk & I use daily). The nutrients in this 3-pack of supplements is optimized to provide just the right benefits (without the negative effects of megadose vitamins). It also comes with a 30-day money-back guarantee if you don't feel more energy & less pain in your body. 

There are three supplements in the Lifelong Vitality Pack:

Microplex VMz:

 whole food complex with absorption and highly bioavailable macro + micro-nutrients (to help heal the body), no synthetics, veggies picked at peak of perfection
xEO Mega: 

balanced 3:6:9 from marine + land sources, marine EFAs are tested through multiple toxicity programs, special essential oil blend (clove, frankincense, thyme, wild orange, peppermint, ginger, caraway, german chamomile, cumin) to help stabilize fish oils (it's why it's shelf-stable!!)
Alpha CRS+

: THIS is the pill that will potentially make biggest difference for most people quickly, very powerful herbs & spices to decrease inflammation at cellular level and provide energy, provide cells with nutrients needed to duplicate, replicate, destroy unhealthy cellular materials (aka cellular housekeeping), helps at the cellular level for energy and metabolism and supports healthy mitochondrial function (energy for the cell and supports mental clarity and function)
In addition to this amazing trio of basics, a daily probiotic & digestive enzyme is also recommended. I take both on an empty stomach at the start of my day (as I practice daily intermittent fasting), but you can also take both with breakfast & your first portion of the Lifelong Vitality supplements.
The PB Assist+ probiotic contains a pre-biotic fiber and six strains of probiotic microorganisms in a double-walled capsule. That double wall is key to make sure that your probiotic makes it through your stomach acid to your intestines, to be absorbed  for full digestive & immune support.  This gives you 6 billion CFUs of active probiotic cultures and soluble pre-biotic FOS (fructooligosaccharides) for a healthy gut!
Terrazyme is the digestive enzyme and the only thing I have found that allows me to eat dairy without tummy distress. This is a blend of active whole-food enzymes and supporting cofactors , which helps everyone improve digestion of food nutrients and help cellular metabolism of nutrients to energy.
Exercise
Most of the focus on the daily healthy habits are the nutrition supplements (because we know much of our health is based on our nutrition), but exercise is important for other reasons. Strength training helps build muscle & boost metabolism, while cardio exercise supports cardiovascular health. Both of these can leave you with sore & tired muscles, right? Especially if you're putting in a solid effort. 
And this is where my FAVORITE product for anyone active comes in. Before and after exercise, use Deep Blue oil or rub to stimulate your muscles and support healthy joints and muscle function. This also helps support a quick recovery, so you'll be ready for your next workout. I keep a roller bottle of the oil in my snowboarding jacket and the rub in my work bag. I used it on my knee after a bad fall (that resulted in a bone bruise) a few years ago. I've had athletes with plantar fasciitis use it as part of their recovery routine.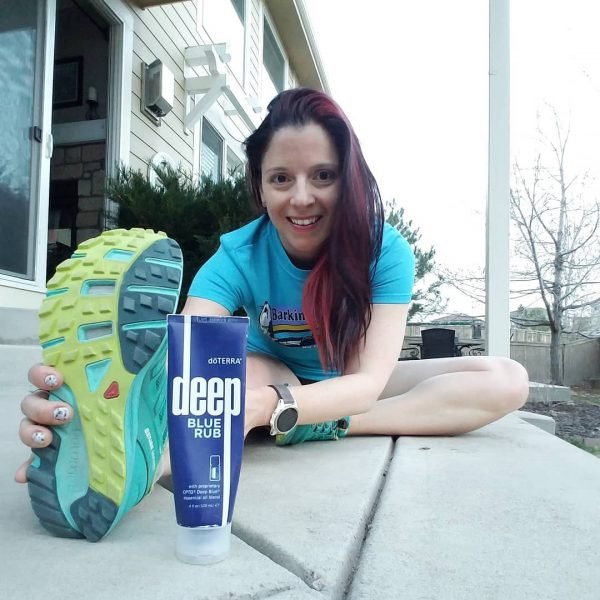 Can you tell this is one of my favorites? Anyone active needs this as part of their daily routine and that's why Dr Hill included this as part of his Daily Health Routine.
Sleep
This is one of the most overlooked healthy habits & one that can be challenging to change. Many of us are trying to squeeze more hours in the day, which often means taking time away from sleep. Unfortunately, this can result in muscle loss, overeating, a decrease in insulin sensitivity, and many other negative side effects.
You want to aim for at least 7 hours of sleep each night (more if you are active). Improving my sleep was the first thing that attracted me to oils & these natural tools keep me sleeping soundly every night.
There are several oils & diffuser blends that are fantastic for sleep, but lavender and serenity are two of the most common to start with. We fill the diffuser about 20-30 minutes before bed to fill the room with sleep enhancing molecules. At the same time, take 1-2 of the Serenity capsules to help you get naturally restful sleep without groggy side effects. Finally, massage a few drops of lavender or serenity oil into the bottoms of your feet for good measure. You're going to have the best sleep of your life with this trifecta!
Hydration
The long-term health of all your body's systems are highly dependent on hydration. And most people are walking around dehydrated on a daily basis – are you one of them? At a minimum, you should aim to drink half your body weight in ounces each day — outside of workouts. So if you weigh 200 pounds, that means 100 ounces of water daily.
Why is this important? Hydration supports the brain, skin, bones, and pretty much every other body system. It an also naturally suppress appetite, promote healthy metabolism, and support weight loss. But drinking that much water can be a challenge sometimes.
High quality & pure doTERRA citrus oils make water WAY more interesting. Not only do citrus essential oils make water taste yummy (wild orange & tangerine are my personal favorites), but they also affect our emotions and energy levels. That's why Dr Hill recommends adding 1-2 drops to your water bottle (stainless steel or glass) throughout the day to support hydration.
Stress Management
The final piece of the daily healthy habits routine focuses on stress management. Stress can effect so many areas of our health – including cardiovascular, respiratory, immune, reproductive systems. But with crazy schedules & family obligations, stress is just a normal part of life. But there is a natural way to manage stress and improve the impacted systems of our body.
Balance is a blend of oils created to help ground your emotions, helping you create a sense of calmness and well-being. That's why Dr Hill recommends applying this one to the bottom of your feet when you wake up — helping you start the day calm & grounded.
A complementing oil in this area is Frankincense, which has a wide range of benefits. Taking this oil internally daily can help support cellular health, reduce inflammation, dispel negative feelings (including stress), and so many other benefits. This is called the "king of oils" for a reason.
Finally, let's talk about immune support. Our bodies are bombarded with toxins and bacteria daily as we go through life, which isn't so great for our immune system. But On Guard blend is the immune boosting oil that you'll want to use daily to keep your immune system strong, as well as non-toxic cleaning around the house. You'll find some great studies published on this oil & it's effectiveness against unwanted bacteria or pathogens. 
Now that you you know more about how these supplements & essential oils can support your health, it's time to get to the nitty, gritty details. Here's the daily routine created by Dr Hill to help support your overall health & wellness. If you're new to doTERRA, you can get a starter set including all these products in the Daily Habits Kit. You can upgrade at checkout to a Wholesale Account and save 25% off your purchase, plus any additional orders in the next 12 months.
Daily Healthy Habits Quick Reference
Here's what a typical day should look like following this schedule:
Morning:
Apply 1–2 drops of Balance to the bottom of your feet when you wake up
1 drop of Frankincense under your tongue (or in a veggie cap)
With first meal, take one Terrazyme, one PB Assist, and 1/2 serving of doTERRA Lifelong Vitality

 
Afternoon:
Use a citrus oil in your water throughout the day. Dr. Hill suggests Lemon, Tangerine, or Grapefruit.
With 2nd meal, take one Terrazyme.
Apply Deep Blue® Rub after strenuous activity or workout (or when needed).
Evening:
Diffuse doTERRA On Guard, add one drop under your tongue (or in a beverage), or take a doTERRA On Guard® Softgel.
With dinner, take one Terrazyme and 1/2 serving of doTERRA Lifelong Vitality  

 
Bedtime:
Diffuse your favorite oil for relaxation or apply to the bottom of your feet. We suggest Lavender or doTERRA Serenity.
Why I partner with doTERRA
There are a number of places to get essential oils these days, but I chose to partner with doTERRA as it's the highest quality supplier on the market. They are the only essential oil company in the world whose oils are proven 100% free from toxins and chemicals. They are 100% pure, free of fillers or artificial contaminants such as pesticides or other chemical residues. dōTERRA essential oils are all externally tested/audited for purity and quality. If they don't meet doTERRA's rigorous standards, they aren't sold.
They also invest in co-impact sourcing with their farmers, so we can be confident that the plants are grown and harvested by people who are treated fairly and ethically. We source our oils from over 23 developing countries, so it's important to know you are supporting the farmers, their families and the industry in an ethical manner.
If you would like to learn more about how doTERRA oils can support your health, I would be happy to talk with you 1:1 to find the right fit for you. Send me an email or schedule a call on my calendar here.