The last week of October is already here and I'm in the Halloween spirit! We may not have kids at our house, but we love to decorate the front porch and yard with skeletons, spider webs, and creepy dudes who hand out candy. And this year I'm hoping our costumes fit a bit more into the creepy halloween spirit.
But before we get to all the spooky fun over the next week, let's catch up on life!
Currently, I'm…
Traveling:
Since last month, we've been staying here in Colorado with weekend trips to the mountains. Fall came to the mountains in late September and we're still seeing the beautiful leaves here in Denver today.
If you read my Currently post in September, you may remember that I fell during a run in Poland and was out for about 6 weeks with a bone bruise on my knee.
I'm super excited to share that as of last Friday, I have been cleared 100%!! I am really happy with how quickly I healed and at least I was able to do some running during the final 2 weeks. Now the real work begins and I start to rebuild my running endurance.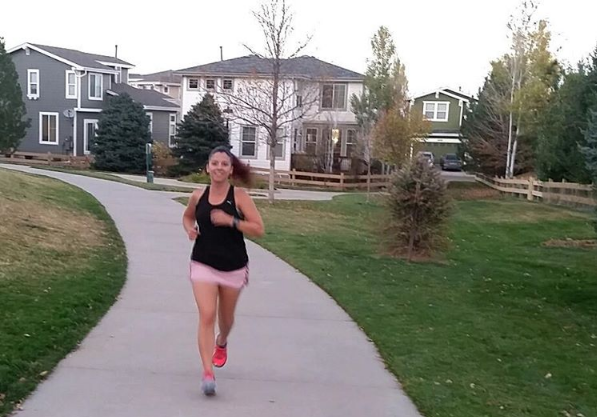 There's not enough time left before my final half marathons to really rebuild to that level, so I'll be shifting my focus to rebuilding to 10K distance and focusing on speed. I have some big plans for next year, so I'm really focusing on rebuilding strong and getting ready for that.
My current training plan includes 4 days of strength training, 3 days of running, 1-2 days of yoga, and 1 day of cycling each week. I haven't really been cycling as I originally intended, but I do want to get back in the saddle (pun intended) this month).
Celebrating:
This month I'm celebrating one of my favorite holidays – Halloween!! Since it hasn't happened yet, you'll have to watch my instagram for an update on this year's shenanigans. I bought our costumes in September, so I'm pretty excited about this year. Hoping it all comes out as I have pictured in my head.
I am also celebrating a brand new offering to help even more people transform their lives through natural health & fitness. Essential oils have been another step forward in improving my health and supporting my performance goals. If you're curious to learn more about this, you can always email me or check out this getting started guide.
Eating: 
We've been doing something different for the past month for date nights and it's been a TON of fun! Instead of going out to dinner on our weekly date night, we've been staying in to make a meal together from scratch. We started with sushi at home – making nori rolls, nigiri, and sashimi with fresh veggies and sushi-grade fish from whole foods. You may have seen the videos we shared of the process on Instagram Stories.
The next week my Dad was in town and we decided to make pasta from scratch. Okay, I guess this one wasn't technically a date night, but it was the same theory. We took pasta making lessons and bought a hand crank press years ago, so it was fun to pull it out of storage and make amazing fresh pasta together!
This past weekend we decided on pizza night and again made everything from scratch. Fresh pizza dough (super easy!), homemade pizza sauce, ground antelope (that our neighbor shot), and tomatoes from the garden. A backyard farm-to-table meal, don't you think?! It was some of the best pizza we've ever had and making it together was almost as fun as eating it!
I highly recommend to swipe this idea immediately – it's a blast.
Moving: 
This past weekend, snowboarding season officially started!! One of the mountains on our season pass, Arapahoe Basin (usually called A-Basin), opened 1 run for the crazy people like us to enjoy. We only did about 4 laps, but it's such a fun way to get excited for the season and shake the dust off our skills.
Last season I spent 32 days on the slopes, so this year I'm hoping to break that record. Day 1 is done and at least 32 days to do. 🙂
 
Reading:
Remember that cheesy vampire series I mentioned last month? With dozens of books in the series, I'm still working my way through A Shade of Vampire (I think I am starting book 15 tonight).
On a more educational note, I'm also reading Bob Seebohar's Metabolic Efficiency (2nd edition) and the Athlete's Food Guide to Metabolic Efficiency. We have the ME clinic coming up the first weekend in November and I'm really excited to dive deeper into these topics (and get my certification). I can't wait to share more about this topic with you in November!
Listening:
On the listening front, I just downloaded Neil Gaiman's Neverwhere on Audible for workouts & commuting. I've also been listening to several different business podcasts, including Michael Hyatt's This is Your Life. 
I hope you enjoyed this monthly break from normal content and peak behind the scenes into my "normal" life.
Share your answer to one currently topic in the comments!