Today I'm excited to share a guest post to help you find creative ways to incorporate exercise/movement into your day. So many of us have packed schedules and fitting in exercise can be a challenge. One way to make fitness a priority is to get creative — and that's what Annie is sharing with us today. I think you'll enjoy her perspective on how to add different movements to your daily routine.   
—–
I know how important it is to stay fit. I've had anxious moments wherein I couldn't get myself to fit in my newly bought slim jeans. I ended up giving them to my younger sister.
Not only that, but strenuous activities used to make me run out of breath. Simple activities such as climbing the stairs, walking a few blocks, or even doing household chores make me feel so tired.
I made a mental note to exercise.
I know, I know, time is an issue. That was also my only excuse. However, I realized that what I had to do was get creative and incorporate exercises into my daily routine. I had to change my habits.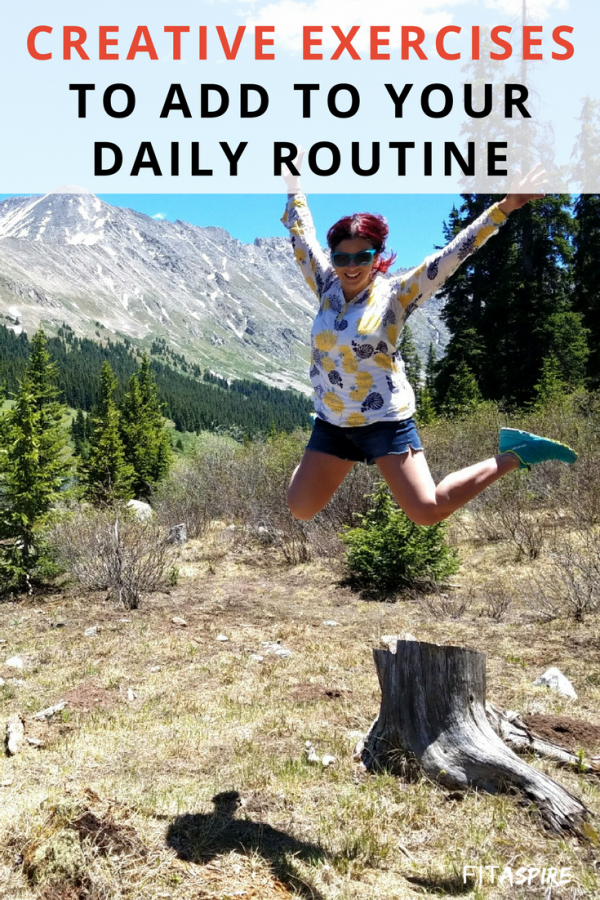 If you're thinking, "What do I have to gain if I exercise? Is it just to lose weight?"
Well, THAT's not the only gain. In fact, exercise has many benefits – you'll be surprised to hear some of them.
Benefits of Exercise
Exercise does not only make you look good, but it also helps you feel good. Here are some of the reasons why exercise is beneficial:
Improves Cardiovascular Health – Exercise increases oxygen flow to the blood. Your blood also circulates well within your body and helps prevent blood clots. Sweating it out flushes toxins and harmful cholesterol from your body. Therefore, you are at a lower risk of experiencing cardiovascular diseases.
Boosts Brain Functions – Exercises helps increase chemicals in the brain that prevent decline of the hippocampus. The hippocampus is the region of the brain that is responsible for memory and learning.
Reduces Stress and Anxiety – Exercise promotes the release of endorphins and norepinephrine, which are brain chemicals that lead to feelings of euphoria and happiness.
Boosts creativity – Exercise flushes out cortisol from your body. Cortisol is the "fight or flight" hormone released during stressful situations and hinders problem-solving and creativity. Exercise also helps promote the growth of new nerve cells and synapses and increases the flow of oxygen in the blood which contributes to mental energy.
Quick Exercises
If you are a very busy person, you can start with these quick exercises that you can include in your daily routine. This routine is called the 9-9-9 workout, which means that you do 9 moves, 9 reps, and 9 rounds. You can complete this routine 30 minutes to an hour a day. To create more challenge, set your stopwatch and beat your time. See how fast you can do it on the next day!
Jumping Jacks – Start with a standing position. As you jump, raise your arms overhead and spread your legs as wide as you can.
Squats – Start with a standing position then lower yourself as if you were going to sit on a low Make sure that the back of your thighs does not touch your heels. Hold your arms in front of you as you squat. For advanced moves, hold a dumbbell in each hand and rest them on your sides as you squat.
Mountain Climbers – Start in a plank position and support your body with your palms. Pull one knee up towards your chest as if you were climbing. Repeat with the other knee. Remember to do 9 reps for each knee.
Lunges – Start at a standing position with your back straight and one leg forward. Lower your hips and bend both knees as if you were going to kneel on one leg. Don't let your knee touch the ground. Keep your upper body straight as you lunge forward. Return to standing position and repeat 9 Then repeat with the other leg.
Sit-ups – Lie down on a yoga mat with your back straight. Bend your knees so that your feet are flat on the ground. Cross your arms across your chest and clench your fists. Your fists should touch the shoulders. Tighten your abdominals as you lift yourself up on a sitting position. Make sure that you don't lift your feet off the ground. The pressure should come from your abdominals when you sit up and not your neck. This is why we should not clasp our hands at the back of the neck when we do sit-ups.
Push-ups – Start with a plank position. Bend your elbows as you lower yourself to the ground. Contract your abdominals and feel your core tighten as you lower yourself without touching the ground. If you are having difficulty, prop yourself up a sturdy bench or chair until you get used to it.
Plyo Jumps – To do this exercise, you need to be in a spacious area. Start with a standing position. Prepare to jump by squatting. Jump forward as far as you can and land softly in a squat position. Turn around and go back to the initial jump point if you don't have a large area.
High Knees – High knees are like jogging in place. The trick is to hold out your hands in front of you at waist level. As you jog, your knees should aim to touch your palms. Keep your palms steady and do not try to touch your knees – your knees should be the ones to meet your hands.
Burpees – Start with a standing position. Now touch the floor with your hands and kick your legs back, then lower yourself with a push-up. Now bring yourself into a squat, then jump with your arms raised over your head. That's one rep. To give you an idea of how to correctly perform this exercise, check out this video.
The above exercises may seem difficult during the first few instances. Don't give up! Just think of how much weight you'll lose and how you'll end up looking healthy and toned shortly. Since they only take 30 to 60 minutes of your day, you won't have any excuse not to perform the exercises daily.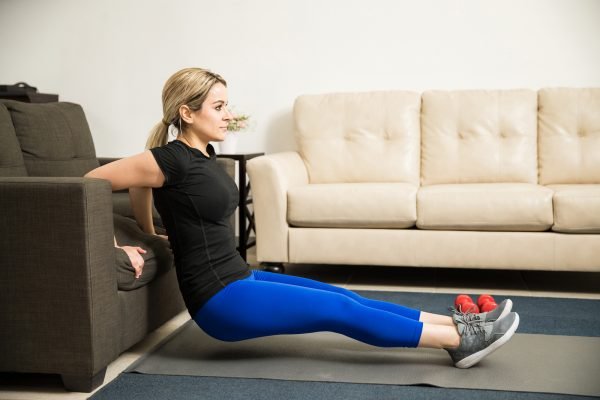 Change Your Routine and Your Habits
Ever heard of the adage, "Get fit and aim for 10,000 steps a day!" There are even apps such as Fitbit that help you track the number of steps you take.
How exactly do we do it if we are stuck in a 40-hour work week? There are plenty of creative ways you can accomplish those 10,000 steps without noticing it. Here are some tips:
Take the stairs – Challenge yourself and see how many floors you can go up to. If it's just two flights of stairs, why not take the challenge? If your office is on the 10th floor, get off the 8th, or 9th floor then walk the rest of the way. Take the stairs going down if you don't have an urgent meeting.
Don't send that email or IM – Instead of sending an email or chat, why don't you walk over and talk to them? Not only do you get to exercise, but you also foster communication and establish closeness with your colleagues.
Park from a distance – When you go to the mall or supermarket, park far away from the entrance and walk. I'm sure there are plenty of empty parking spaces that are far from the entrance. Saves you on fuel, too!
Walk while waiting – If you are waiting for someone, take a walk around the block. Waiting for your child to finish soccer practice, a relative who has an appointment with the doctor, or just waiting for someone to complete an errand – these are some activities where you can walk it out rather than sitting it out with a latte.
After-dinner stroll – One of the best things to do is to bond with your family after a meal by walking! Enjoy the fresh air, hold hands with your spouse, go stargazing with your kids – these are all creative activities and help you and your family get healthy.
Walk during breaks – Taking quick breaks every 2 hours helps you avoid stress at work. Set your alarm every 2 minutes and take a 2 to 3-minute stroll in the office. Taking quick breaks like these help you calm down especially when your projects are up to your neck. A quick walk around the office also gives you that adrenalin rush right before a client presentation – but don't be late!
Go on a nature walk – Instead of going to the mall or movies, why don't you save up and go on a hike instead? Go to the park and plan a picnic. Go camping with your friends. Buy a bike and plan early morning bike rides with your friends or family. Having fun doesn't always mean spending a lot. Plus, you get to be fit and healthy.
Conclusion
Being fit is a responsibility. There is no quick shortcut to losing weight or being toned. You have to motivate yourself and change your habits if you want to be successful. You can also inform your close friends and family about your plans. Who knows? They may be more than willing to join you instead of just being your support group.
In our present times, it can be difficult to find time and exercise. That is why we just have to be creative enough and incorporate these into our daily routine.
What about you? Do you have other tips on how to get fit? We'd love to hear your ideas and suggestions, too. Don't forget to share these tips!
—-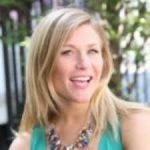 Annie Jones is the person behind BoostBodyFit. She started off a bit on the chubby
side but went through a transformation. She looks and feels great. Say Hi to Annie on
Twitter and Facebook.