On Wednesday, I put my money where my mouth is and registered for my first two big races of the year: the Jed Smith 50K and the New Orleans Marathon!

After a week of and absolutely no running, every sane person registers for long distance running events, right?! =)
To celebrate the "officialness" of my races, I headed out for an easy 5 mile run to get my legs running again. And it sucked! I was huffing and puffing, felt like a brick was sitting in my stomach, and felt generally terrible. A little over 1.5 miles into the run, I turned around and headed home. I felt defeated.
Back at home, I reminded myself that my first run after a break is always terrible – it doesn't mean anything. I felt better. Kinda.
Thursday was my day to redeem myself. With a 22 mile run on my schedule for this weekend, I needed to remind myself that I can do that. Then I read Bonnie's post: Committing to Health – A Daily Activity. I was inspired and ready to run! She reminded me to take it one day at a time. She also reminded me that training is not just about running. It's how I'm fueling myself before and after those runs:
Because the truth is, you can work out until you're blue in the face, doing 1, 2, 3 workouts a day, but if you're not eating well you will not see the change you want.
You know what – she's so right! I can run until I've passed every record I've set, race every month, train for and race an Ironman, but I'll never hit the goals I have for myself if I don't pay more attention to what I'm eating and drinking. I have a fairly healthy diet, but I like to reward a hard workout with lots of food & drink. Which means I'm offsetting all that hard work and standing still.
I knew this already, but sometimes you need to hear it at the right time from someone else.
So, while I train for this 50K and marathon #7 over the next few months, I'm going to pay attention to my nutrition and make smart decisions. I'm going to eat a little more like an athlete and a little less like a weekend warrior. An unofficial goal I have for the year is to finally get abs that I can show off.
This is not an "I hate my body" post, this is an I'm going to be even stronger post! I'm going to bust out a 50K in four weeks and another marathon four weeks after that.
So how did my redemption run go? It rocked! It was one of those runs where I didn't feel like I was working, just floating along.
So the next time you're struggling with a training session and you're feeling down on yourself, remember that you are strong. That tomorrow is another day. And take it one day at a time!
And my post-run reward? Raw Mexican Rice Pilaf With Spicy "Cheese" Topping from Choosing Raw. We downed our dinner before pictures tonight, so I borrowed this photo from Gena.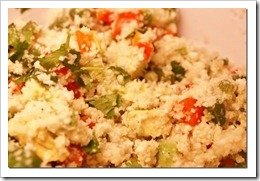 This meal was delicious, flavorful, and filling! I can't believe we ate a meal with cauliflower as the base and LOVED it! Kirk added chickpeas into the mix, so it wasn't a true raw meal, but it was close and protein packed. I did have 1 glass of wine to go with dinner, but it's the first glass of wine I've had since New Year's Eve.
————————–
$20 Dollar Discount for Active Advantage Members
Ready to put your money where your mouth is? Active.com is offering a financial incentive to help get you started:
If you register for any race on Active.com this month and are an Active Advantage member, you can get $20 back on your registration! The process is really easy – you can email your payment confirmation to AdvantageRebates@activenetwork.com with your mailing address and "Active.com Advantage New Year Promo" in the subject line.
Have you registered for any of your 2012 races yet? Which race are you most looking forward to?