With vacation just a week away, one of things I have to consider is this blog. Do I plan a number of guest posts while I'm away or prewrite posts to share with you? In either case, how do I avoid having to check in and promote the posts on social media? While weighing my options, I decided to revisit a tool that I tried out a few months ago – CoSchedule.
Disclosure: The following review for CoSchedule is provided in exchange for a discount on my yearly subscription to the service. Any links to CoSchedule also include a referral code, which provides additional discounts off my service. As always, all opinions are my own and I only share things that I would recommend to my friends and family. You can read my disclosure policy here.
What is CoSchedule?
CoSchedule is a drag-and-drop editorial calendar for WordPress that brings together your editorial calendar and social media messages in one place. It is a planning & publishing tool that eliminates the need to schedule tweets, google plus, and pinterest shares in multiple platforms, which saves a lot of time! I still schedule Facebook posts directly in Facebook, as it impacts how many people see my post. With vacation coming up, this makes scheduling my promotion messages easy, so I won't have to worry about it!
Some of the key features they advertise are:
Drag-And-Drop Editorial Calendar
Schedule Social Media While You Blog
Save Time, Grow Traffic
Lightweight WordPress Plugin
Automated Social Publishing
Simple Team Communication
All-In-One Publishing Solution
No More WordPress Hacking
If you have a blog with multiple contributors, you may like the team communication feature. Although I don't use this on FITaspire, it's something I'm evaluating for my corporate blogs. You can assign posts and tasks to different team members, which should make managing multi-author blogs much easier!
How Does it Work?
To get started, sign up for an account with CoSchedule. They offer a 14 day free trial, so you can test it out before committing. If you decide you like the program, it's only $10/month (but you can save 50% off an annual subscription if you write a review like this one!).
Next, you install the plugin to see the menu in your WordPress panel:
Finally, review the settings to connect all your social media accounts, choose your calendar preferences, and set up any other team members who will use the calendar. In my case, I'm the only team member. But if I ever convinced Kirk to contribute blog posts, I could add him here.
If you're interested seeing the tool in action, watch this video for a demo of CoSchedule.
How I Use CoSchedule on FITaspire
The first time I trialed this program, I had a bit more time in my day & was comfortable with my scheduling process. Over the past few months, I have less free time and a tool that saves me time is worth a few dollars a month. I'm glad I gave CoSchedule another try, because it has really helped me simplify my process and will make vacation much easier without neglecting the blog.
[Tweet "Making #blogging easier with @CoSchedule. Review by @FITaspire. "]
Using CoSchedule as my calendar, I usually brainstorm post ideas 2-4 weeks ahead of schedule and save drafts. When I have time to write, I start on the next post on the calendar and schedule social media messages on twitter for the day it publishes, a week later, and a month later. I'm curious to see if this future scheduling helps some of my older posts get more views as time goes on. Next I schedule1-2 pins on Pinterest and schedule a Google+ post.
I can then review all my draft posts, scheduled posts, and scheduled social media messages directly on the calendar to get a complete picture of what is planned (similar to the sample calendar below).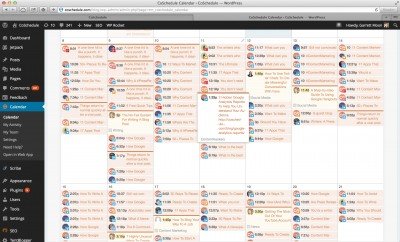 Finally, I schedule my posts on Facebook directly, since that remains the best way to have your followers see a post on that platform. On the day a post publishes, I can focus on interacting with my readers on these platforms, instead of scheduling messages.
Going back to vacation, I've decided to pre-write posts, instead of accepting guest posts. I'm also bringing my computer, in case I do have time to share an update or two from France. But now there's no pressure!
I hope this review is helpful for those of you who blog (and gives you a peek inside my own process). If you decide to try CoSchedule for yourself, I hope you'll use my link and help me save a few dollars off my own subscription. It's affordable already, but I like to save money!
********************
Questions for you:
Do you like when I share guest posts?

For bloggers: Do you have a blog scheduling process or do you write when inspiration strikes?