Purple sneakers are cool.
You might be skeptical – I know I was – but they really are! In fact, I'm at a big digital marketing conference this week and the CEO was wearing purple sneakers at the keynote. I couldn't quite tell if they were Reebok Skyscape, but obviously prime color shoes are in style right now!
Disclosure: The following post is sponsored by FitFluential LLC on behalf of Reebok. As always, all opinions are my own and I only share things that I would recommend to my friends and family. You can read my disclosure policy here.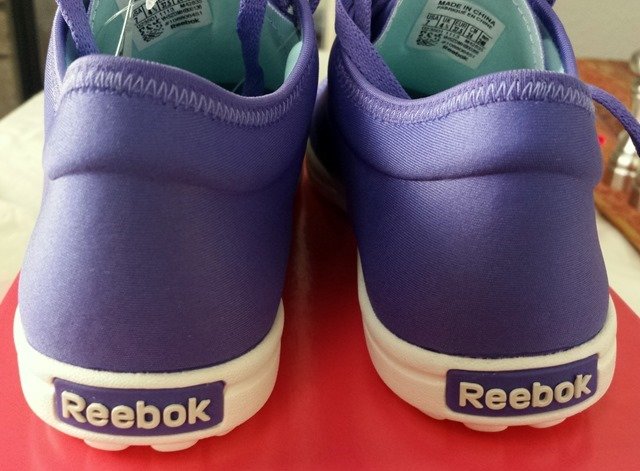 Why am I raving about purple shoes? I recently had the chance to try out these purple Reebok Skyscape shoes and I was really impressed by how comfortable they are! Apparently, Skyscape shoes are made with the materials and soft molding process that is used to create lingerie. In fact, they are so have foam material in the upper that adds extra cushioning around the tongue of the shoe.
Just a few of the features that are packed into this little shoe:
5.0 ounces
Foam material in the upper for softness and flexibility
Seamless construction for minimized rub and irritation
Unique architecture designed to support the foot and provide all-day comfort
I really put these to the test last Friday, as we were traveling to California for a weekend of fun, before a week of work. After walking around all day in many shoes, my feet are tired at the end of the day. These shoes are so comfortable I actually slept with them on! I usually kick off my shoes as soon as I find my seat on the plane, so this really tells you something about how comfortable these shoes are. It really lives up to the tagline:
So lightweight and comfortable, you'll forget you have them on.
I found myself planning outfits around my shoes, looking for opportunities where the purple shoes could make a statement. I can't wait to pair these with some cute capris and no socks (spring is coming!). I think these would be such a great accent to dress up an otherwise neutral outfit. Or one with another loud color for a bit of a creative stretch!
Although these aren't intended as gym shoes, I did wear them to the gym yesterday morning to see how they felt. I did a leg workout and found that the flat base and light weight really worked well. I wouldn't use these instead of a gym shoe, but it was an interesting alternative to my heavier running shoes.
After wearing them sockless with capris or around the gym, they might start to smell less than great. Reebok Skyscapes are machine washable, although they recommend removing insoles and laces prior to washing. The insoles can be washed separately on delicate and air dried.
Are you ready to get your own pair?
You can order them online at Reebok's website or at a Reebok FitHub or Outlet location near you. You can also find them at select Kohls locations. They offer a few different color combinations, so if purple isn't your favorite, make sure you check out some of the other fun color options!
********************
Questions for you:
What color are the "wildest" shoes you own?
Are you willing to sacrifice comfort for style?