Did you know that yesterday was called "Christmas Adam", because it's the day before Christmas Eve (and Adam came before Eve)? I learned that from Lindsay yesterday – she's so smart!
I also ran 20 miles yesterday!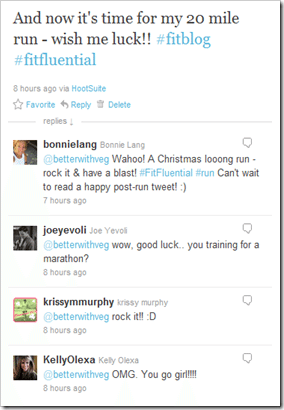 My first 20 mile run of the season, as I get ready for my 50K in February & marathon in March. It went really well, except that this klutz tripped around mile 15 and gracefully landed my bottom on the ground (ouch!). Then rolled my ankle around my 18 just to keep it interesting. Kristin also rocked out 19 miles yesterday – we were virtual running buddies! 😉
Photo from around mile 17 on the run – came out a little darker than it actually was.
And about now I'm doing the opposite of running – sitting in a car for countless hours on our way to spend Christmas in Florida with my sister. But don't worry about our doggies, they are comfy at home. We have an awesome dog-sitter/house-sitter that stays with them when we go out of town.
Weekend Recap
Now if you're spending the day with family, you should probably stop reading this post and go spend some time with them. Unless you need a mental break. =) In that case, here's a summary of the happenings around here over the past week. There has been a definite Christmas theme going on!
Monday – Getting into the Christmas Spirit with Christmas Cards Outakes from our Christmas Card "photo session" with our two dogs: Abbott & Zurie. A great laugh to start the day and our digital Christmas Card for you!
Tuesday – Recipe: Santa Loves My Eggnog Spice Biscuits! Just in time for Christmas morning, these yummy biscuits are eggnog-licious! I used Earth Balance Nog for my version, but So Delicious makes a Nog that would taste equally amazing.
Wednesday – WIAW Gardein Review and Giveaway! This week's WIAW featured a new recipe for Peppercream Pasta PLUS a giveaway for 5 Gardein Coupons!! Have you entered yet? Today's the last day to enter – so get those entries in now!!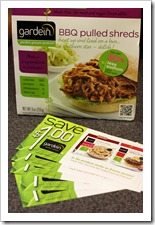 Thursday – The Gift of Treadmill Workouts This week I shared two new treadmill workouts to make your indoor runs a little more exciting. These workouts are for those training for longer distance races. If shorter races are on your schedule, check out the these that I shared in November. And the cookies I made for my team!
Friday – The 12 Questions of Christmas (plus 13 more) The Christmas Survey sensation that's been sweeping the nation (well, at least the blog-o-sphere) comes to Better With Veggies.
Merry Christmas Eve!!!