The countdown is getting shorter – have you finished your Christmas shopping yet? My list is getting shorter, but I've still got a few things to purchase before Christmas gets here in less than a week. Eek! Going on vacation the week before Christmas may not have been the best idea, but it sure is fun! If you're not already, you can follow along with my vacation on Instagram.
One thing I'm actually ahead of schedule for is our Christmas Eve Open House. Since we are getting back in town on Sunday night, we won't have a lot of time to prepare for company. Honestly, we have no idea how many people to expect anyway, maybe everyone will be traveling?
Disclaimer: I am an affiliate for the Christmas Dessert Freedom cookbook, so I will earn a commission if you purchase through the links below. I only promote products that I believe in and would recommend to any of my friends. As always, all opinions are my own. You can read my disclosure policy here.
Before I left for sunny Mexico, I found some time to squeeze in a little Christmas baking. Remember when I mentioned I was drooling over all the dessert goodies in Leanne's latest cookbook? Last week I actually baked 2 of the recipes: Cocoa Caramel Bars and Maple Shortbread! Other than the fact that I am awful at drizzling chocolate, they both turned out to be fantastic treats and the ingredient list is so much better than "normal" desserts. Check this out: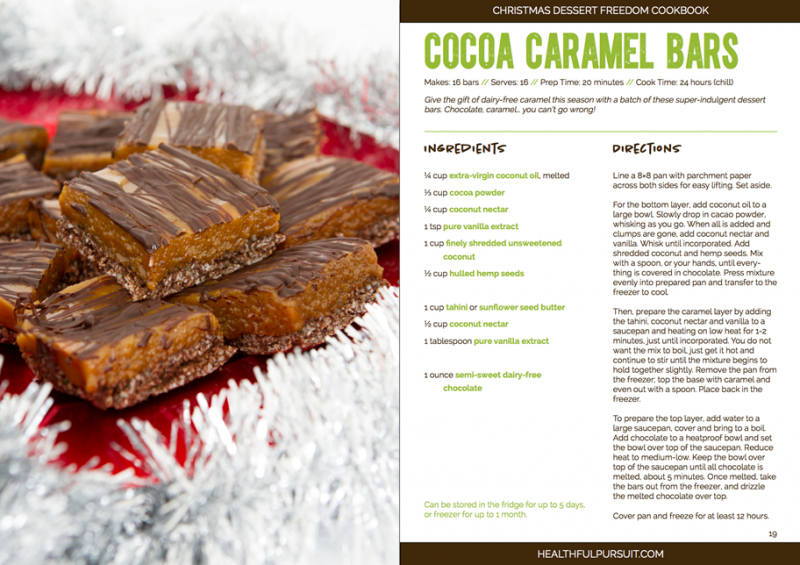 There are so many recipes to choose from, but Kirk and I each picked one. The caramel bars were Kirk's choice (and the more sinful of the two). I have never made a dessert that had hemp seeds in the ingredient list – I was a bit skeptical on that one. I love hemp seeds on my salad, but in the crust of a dessert bar?
I promise you can't taste the hemp seeds at all (unless you lick the spoon while you cook!) and the final result is fantastic! These are not low-calorie treats, just packed full of healthy ingredients that make you feel a little better about the indulgence. These are currently back in Colorado in the freezer, ready for the party on Tuesday night. Did I mention they are VEGAN!!!
The second dessert I made was the Maple Shortbread. The most surprising thing about this cookie was how SHORT the ingredient list is – only 4 ingredients: coconut flour, coconut oil, maple syrup, and sea salt. That's it!
The only drawback for me is mine didn't look as pretty as Leanne's version. Baking has never been my strong suit. But whether they looked perfect or not, they taste great! A bit of a mix between shortbread and sugar cookie to me, which is a pretty great combination.
There are so many other treats in this cookbook that look equally amazing, but I didn't have much time for Christmas baking this year. I don't think these treats have to be left to Christmas alone, so I suspect I'll be pulling up this ebook whether it's December or February (I think several of these would make great Valentine's Day treats too!). It would also make a great last-minute Christmas gift for the foodie in your life – maybe with a promise to bake them together? And it's only $10!

Looking for a little something extra? How about a Snowballs recipe kit so you have a headstart on this recipe? Head over to Leanne's blog (Healthful Pursuit) for a chance to win!
*******************
Questions for you:
What is your favorite Christmas Cookie?
Do you prefer warm weather or snow for Christmas?