Today's guest post is from my good friend Laura, from Sprint 2 the Table! Laura is a fellow Atlanta blogger that I met at the first blogger meet-up last year and since then we have become friends – hanging out Atlanta Underground Markets (here, here, and here) and other food-related fun since then – we both love good food & drinks! =) If you don't already read Laura's blog, today's a great opportunity to get to know her!
*****************************
Hi! I'm Laura from Sprint 2 the Table!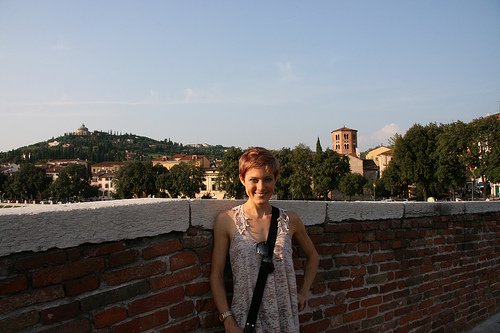 Sprint 2 the Table is a collection of recipes, food adventures, races, strength training, and general pontification.
Why the name?
I live my life from meal to meal. Sometimes I think I'm just hustling through my daily activities so I can get to the next occasion for mastication. At bedtime some people count sheep, some people have lull-a-byes… I fall asleep at night thinking about what I'm going to eat for breakfast. It's a sickness, I know. Oh, and I also run.
2011 Tough Mudder Race
One of the keys to exercise and being an athlete is to fuel your body properly. It's amazing what transformation can take place when you focus on cleaning up your diet, and pumping your body full of the nutrients required to perform at your best. But that doesn't mean you have to eat "boring" food!
My go-to "clean" breakfast/snack is Chia Pudding. Chia seeds have been gaining notoriety lately as a sounds of iron, protein, and Omega-3s. Food & Wine even highlighted Chia Pudding in their March issue!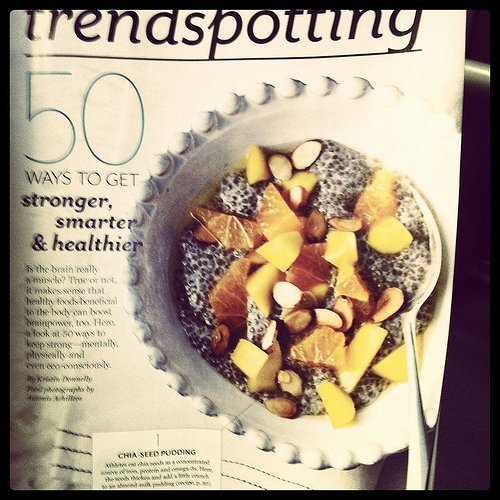 Chia seeds form a gel-like substance when soaked in liquid (hence the pudding), which is why this is such a great overnight breakfast. In addition to making a fantastic pudding, they are a super food.
A few reasons Chi-chi-chi-chias rock:
Highest natural source Omega-3 available
Tons of fiber (7g per 2T)
Loaded with antooxidents, vitamins, and minerals
Provide lasting fullness/energy thanks to being slow-digesting
Hydrating – they can absorb 12x their weight in water!
May aid in muscle/tissue recovery
Making chia pudding is an easy process. All you need is a bowl, a spoon, and 15 minutes.
The basic recipe is to use 1 tablespoon of chia for every 1/4 cup of liquid. Then you add mix-ins, stir, and allow to chill in the fridge for at least 15 minutes (or overnight).
Here are few of my favorite ways to jazz up this healthy treat:
Peach Cobbler Chia Pudding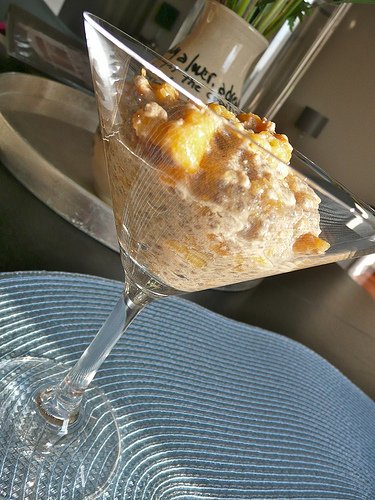 Blueberry Pear Overnight Oat Chia Pudding
Sweet Potato Chia Pudding Pie
Chocolate Breakfast Budding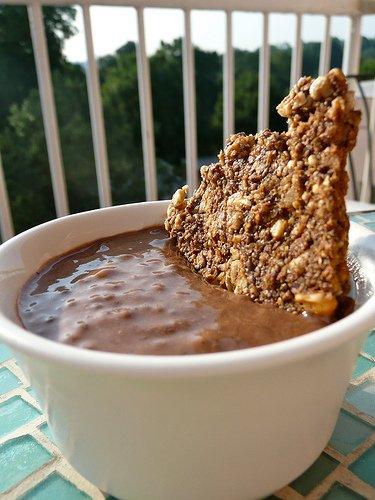 When I make them for breakfast, these puddings can hold me over until lunch (not an easy feat)!
Thanks everyone for reading! I hope you'll come say hello over at my blog, Sprint 2 the Table.
And thank you SO much for asking me to guest post, Heather. Hope you are tearing up the slopes in Utah!