There are lots of reasons to spend money this time of year. Black Friday (huge deals in the store), Cyber Monday (huge deals online)…how about a day for giving back? That's the reason behind #GivingTuesday, a campaign to create a national day of giving!
Disclosure: I received a bracelet & earring set from World Vision in exchange for a review. They are also the great people who turned me on to Giving Tuesday! As always, all opinions are my own and I only share things that I would recommend to my friends and family. You can read my disclosure policy here.
So how do you get involved?
Find a way to give something more. Tell others about it and encourage them to do the same!
There are so many ways to put this into practice today, depending on your schedule & budget. Here are a few ideas to get you started:
Donate extra cans of food to your local food pantry
Do a winter season clothing cleanout and choose a few sweaters, jackets, gloves, hats, or scarves that you haven't worn in a while. Donate these to a local homeless shelter.
Donate through a charitable organization that supports those less fortunate.

Volunteer at a local homeless shelter or senior living center;
Use your kitchen skills to cook a meal or bake cookies for an elderly family member or neighbor.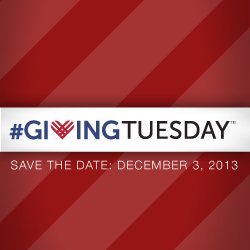 World Vision Gift Catalog
If donating through a charitable organization is something that sounds interesting to you, I encourage you to check out the World Vision Gift Catalog. Instead of a one-time purchase, these are unique, life-changing gifts that give back all year long. The catalog offers more than 250 items that help fight poverty and save lives here in US and around the world.
This isn't your typical catalog, since it includes things like "Goat & 2 Chickens", medicine, career training for women, and clean water. It also includes handmade gifts, like the Colors of Africa Bracelet & Earring Set I received to review from World Vision. This set is handmade from recycled materials by Kenyan artisans, who received a loan from World Vision to grow their business and lift themselves out of poverty.
The bracelet is a little large for someone with small wrists (like me!), but the clasp is designed in a way that makes it pretty easy to clip into a different loop (making the opening as small as you want). Of course that means the extra length of the bracelet will hang down, but it didn't bother me.
The earrings fit nicely – a good size for me! The set together looks great AND the gift is about more than jewelry. At a minimum donation of $100, you get a tangible reminder of your donation and the impact you are making on a family.
A few more reasons I like World Vision? In the last year, 85 percent of their total operating expenses for programs that directly benefit children, families, and communities. I also like that they are a Christian organization, something that is important to me. Their hope is to reflect the unconditional and transformative love of Jesus in culturally appropriate ways. This is the type of company I happily support!
If you're interested in learning more about World Vision, visit their website, facebook page, and twitter profiles.
*******************
Questions for you:
Will you participate in Giving Tuesday?
Any other ideas for giving back to add to the list?