Keeping your workout fun, exciting, and interesting is one of the best ways to stick with your fitness routine. Whether you've been exercising consistently for years, just started in January, or someplace in between – many of us go through periods where we need a little extra motivation to get going.
One of the motivational tricks I use is bright & fun workout gear – because if you look good, you feel a little more excited to get ready to head to the gym and get moving! You might think it sounds silly, but it works. Below are a few ideas to brighten up your workout collection. Get ready for an explosion of selfies, it's the easiest way to show examples of the gear.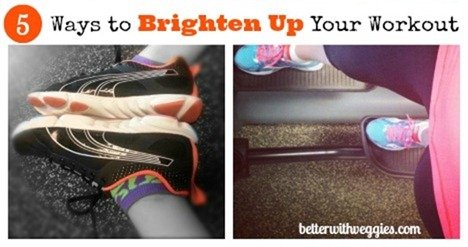 1. Highlighter-bright pants
I love bright pants. My first experiment with bright colors is the pants you see in the middle below – I took a risk and feel in love with the fun that this adds to my workout. Those pants really started my addiction to colorful gear and still makes me smile. All three pants below are from Ellie – one of my favorites.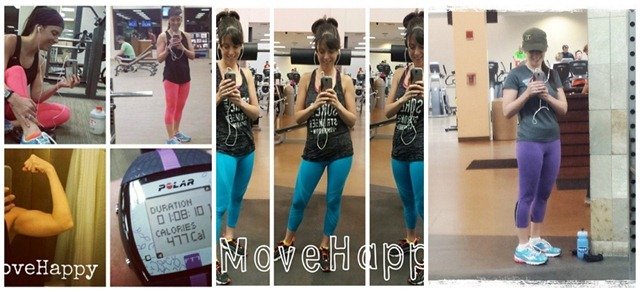 2. Inspirational Tanks
My first inspirational tank was part of the swag bag from Blend 2013 from Living Proof Gear (far left below). Since then I've bought several other tanks from them and added theh "Suck It Up Buttercup" (middle below) tank to my collection from Gymdoll!
I love that these inspirational reminders come with you to the gym – ready for a little mid-workout pickup!
3. Day-Glo Tops
Why stop with the bright bottoms, right? Bright tops let you dress up your basic black bottoms and you won't fade into the background at the gym. When that guy tries to steal your weights during a rest, he can't use the excuse that he didn't see you there.
4. Colorful Shoes
I remember thinking shoe companies were crazy with all these crazy colors just a few years ago. Now that my love for all things colorful has grown, I completely understand where they were coming from. You can start subtle and go for the bright accents (like my Puma's – left below) or go "all-in" with bright color everywhere (like my Saucony's – right below). They won't make you lift heavier or run faster, but they are fun!
5. Headbands with flair
And last, but not least, how about a little something fun to hold back your hair. If I'm doing anything cardio-related, I have to pull my bangs off my face. I have several color options of Bamr Bands to choose from, as well as a few of the Bang Buster headbands from Lululemon.
*******************
What do you think?
Does having  a little fun with your workout gear help with your motivation?
What saying would you like to see on a shirt?