Hello again! It's a rare day that I share two posts, but today is the start of a week of celebrating – Better With Veggies is turning ONE!! I can't believe it's been a whole year since I started blogging here, but Wednesday really is the official day.
To help make this week exciting for everyone, I've partnered with some of my favorites companies to bring you giveaways this week! There are also a few special discounts for those who don't win the giveaways, so make sure you're here all week to join the celebration. =)
********************
Let's kick off the celebration with one of the brands I talk about the most:

Vega Sportis the sports nutrition line created by retired professional Ironman triathlete Brendan Brazier. All the products are 100% plant-based, dairy-free, gluten-free, soy-free, and contains no artificial flavors, colors or sweeteners. Pretty impressive, right?
Just a little more about the products, in case you haven't tried them yet:
PERFORMANCE PROTEIN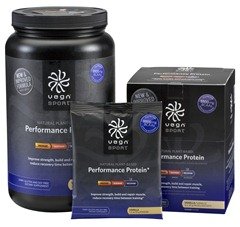 A complete multi-source, alkaline-forming, plant-based protein blend, featuring 5,500mg of BCAAs and 5,000mg of glutamine per serving, Vega Sport Performance Proteinis formulated to:
I have used both the chocolate and vanilla flavors in many smoothies – although vanilla is my current favorite!
PROTEIN BAR
A delicious, post-workout bar packed with 15 grams of complete, plant-based protein, Vega Sport Protein Baris formulated to strengthen and regenerate muscles. Like Performance Protein, Vega Sport Protein Bars feature SaviSeeds, a rich, plant-based source of the amino acid tryptophan and Omega 3s.
********************
And now it's time to share the love of Vega Sport with you – you're going to LOVE this!! One reader will win a package containing:
1 large tub of Vega Sport Protein, in my favorite flavor of vanilla
1 box of 12 Vega Sport Proteinpackets, in chocolate
2 boxes of Chocolate Coconut Vega Sport Protein bars
To enter, use the Rafflecopter widget below to earn entries. Entries are accepted through Friday (August 31) and the winner will be announced on Monday, September 3rd.
Good luck!!