Is it really Friday already? I've been around less than I expected this week, out entertaining my family while they are in town. All good things, but I really do have a lot planned that I hope to share by the end of the year.
So let's get started today with the Top 5 Workouts of 2012!

These workouts are mostly strength training, with one bike workout to keep it interesting.
Based on your views, here are the top 5 (in order):
After finishing Make the Cut (a Jillian Michael's program), I switched up my workouts to follow a split schedule and include circuits with multiple sets. I am still following this format in the gym today and loving it!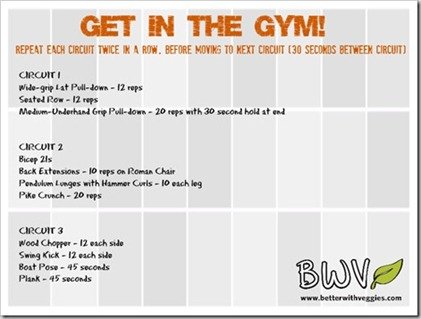 It's Too Cold to Bike Outside!
An older workout, which is pretty obvious just looking at the graphic. This workout is intended to help keep indoor trainer rides (or spin) interesting and help you get the most out of your time on the bike. I also cover the basics of RPE & HR zones in this post.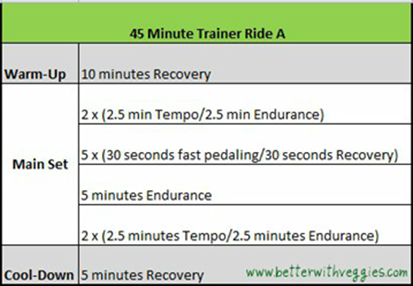 The complementary workout to the first one listed above, this circuit covers the other half of your body (minus the legs). Use the first workout and this one every other day for a full-body workout.
A circuit that started as the base strength workout for my athletes, but I decided to share with you. You'll notice this workout includes upper body strength training, something that endurance athletes can sometimes over look. Both upper & lower body are important to make sure you are balanced and ready to go the distance!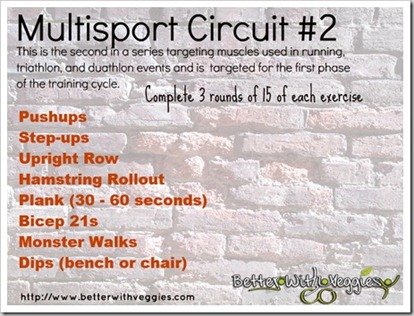 The first half of the sport-specific strength workout. The great thing you'll notice about these workouts is they can be done at home or the gym. I trained exclusively at home for at least 7 months this year and you can get a GREAT workout that way!
********************
And finally, I have an end-of the year surprise for you!! With many of you looking to be better, faster, stronger in 2013, Kirk and I want to help you make that a reality! From now through January 4th, we're offering 25% off our coaching services!!
This includes training plans for running races (5K through Marathon), sprint triathlons or duathlons, or custom coaching for up to 2 months for any running, triathlon, or duathlon goals! To read more about everything coaching includes, click here!
Ready to get started?
Fill out this questionnaire and one of us will get back to you within 48 hours.
********************
Questions for you:
What was your favorite new workout you tried in 2012?

Any workout goals for 2013?