Disclosure: I was not compensated for this review, but the giveaway prize is being provided by Living Proof Gear. As always, all opinions are my own.
********************
Can you believe I'm already through 3 weeks of my training for my first NPC Bikini Competition? And you know what? So far it hasn't been too bad!
The Workouts
Having just finished LiveFit Trainer, the workouts are manageable (although challenging) & the nutrition is just a matter of super-duper planning. I really like the split of 4 days on and 1 day off. It's nice knowing there's a rest just a few days away at all times!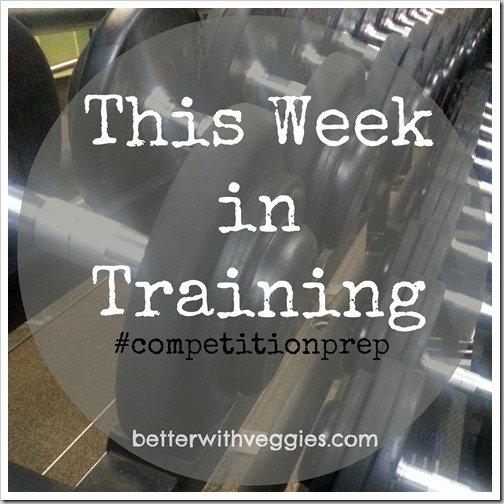 This past week was the last on my first training cycle – same nutrition plan & same workouts. I pushed really hard in my workouts this week and increased weights on many of the exercises.
Monday – Off!
Tuesday – Legs + Running
Wednesday– Shoulders + Running
Thursday– Legs/Arms + Running
Friday– Circuits + Elliptical
Saturday–

Off!

  Legs + Running (swapped for rafting trip)
Sunday – Off!
I'm currently calling these first three weeks "the warmup", because I have updated nutrition & workouts that started yesterday (week 4). And let me tell you…it's a doozy!! Just under 3 hours between strength and cardio yesterday. More details in next week's recap, although you can always follow my daily workout updates on Instagram.
Living Proof Gear Giveaway
Now it's time for what you're really here for – the first giveaway to celebrate the second anniversary of Better With Veggies! I'm starting today with one of the fitness apparel companies you see me wearing all the time – Living Proof Gear! I bought 3 of their shirts over the past several months and wear them anywhere I'm active, whether that's the gym, on a run, or hiking in the mountains!
From left clockwise: hiking Devil's Head Peak, hiking Grays Peak, and a workout at the gym.
I first heard about Living Proof Gear from Janetha, but I didn't try it for myself until Blend earlier this year. I knew as soon as I put it on it was going to be one of my favorites. I love the motivational sayings & the longer length (I tend to be self-conscious about my stomach). I have two of the burnout style & one of the flowy style – the burnout is my favorite as the fabric is so light! It doesn't seem to get heavy the way cotton usually does when you sweat. Even for running! Although I haven't run more than 3 miles in months. 🙂
I also love the customer service you get from Miranda. When I first ordered the flowy shirt I sent her a note on Etsy to check on sizing and she responded back quickly (on a weekend!). Outside of Etsy, you can find Living Proof Gear on Instagram, Facebook, & Twitter.
I wear all three of my shirts every week (I guess I should get more), I'm always excited when they're clean again. I'm pretty sure the people at my gym know me as the girl who wears these shirts all the time! 😉
So I'm sure you're wondering how you can get your own Living Proof Gear shirt right now? You can hop over to Miranda's shop and get your own right now. Or you can try your luck and win one in today's giveaway! Or both. 🙂 This giveaway is open through Friday and is open to residents of both the US & Canada. Good luck!!!