I am SHOCKED that we are already at the end of April. This month really has flown by – even more than usual. We started the month coming back from vacation and getting back into our work & workout routines. I've also had 2 trail races (including a 2nd Age Group win, which I forgot to blog about), a day at the Masters (inspiring my vegan-version of Pimiento Cheese sandwiches), a Masters party, a quick trip to Colorado, and a weekend of USAT Coaching Clinics. Whew!!
To celebrate the last day of the month, it's time to reveal the goodies I received in this month's Foodie Penpal box! This is my third month participating and it's so fun to see what my new foodie friends put together each month.
This month, Amanda from Just us Kuhns sent me a box of delicious goodies. I opened the box to find this beautiful card to introduce the treats:
She went with the fewer, bigger treats approach – which I absolutely loved!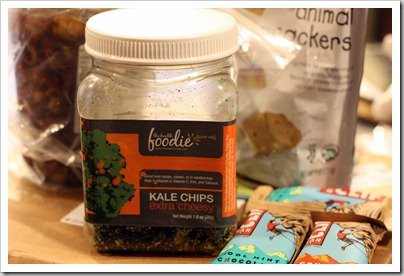 I was nice and shared one of these CLIF bars with Kirk, he got the crunchy peanut buttter and I ate both the cool mint chocolate. These lasted all of one day in my desk drawer – too tempting not to eat!
Next to go was the Kale Chips from The Healthy Foodie — O.M.G. – these were the best and closest to homemade I have ever had. I ate the entire thing in one sitting (just like when I make a batch of my own) and it was breakfast. Yes, breakfast. You already knew I was obsessed with Kale, so you're not really surprised, are you?
As good as these kale chips were, I think my favorite is Spicy Pickled Mushrooms!! I love spicy and typically love anything pickled and these mushrooms did not disappoint!!
They are great to munch on straight out of the container, as a garnish in a "bacon" Bloody Mary, and a salad topping over fresh greens!
I can't get enough of these, I hope I can find some to refill once we finish the giant container of awesomeness!
And last, but not least, a huge bag of organic animal crackers. These came in handy this weekend, a tasty stack while listening to USAT lectures.
If you haven't joined the Foodie Penpals action yet, I hope you'll sign up for May – it's really fun and you never know what new favorite treats you'll discover.
Here are the basics you'll want to know about the program:
On the 5th of the month, you will receive your penpal pairing via email.
You will have until the 15th of the month to put your box of goodies in the mail. On the last day of the month, you will post about the goodies you received from your penpal!
The boxes are to be filled with fun foodie things, local food items or even homemade treats! The spending limit is $15. The box must also include something written.
You are responsible for figuring out the best way to ship your items depending on their size and how fragile they are. (Don't forget about flat rate boxes!)
Foodie Penpals is open to blog readers as well as bloggers.
Foodie Penpals is open to US, Canadian residents & UK residents.
Ready to sign up? Visit Lindsay @ The Lean Green Bean to sign up from US & Cananda. Email Carol Anne from This Is Rock Salt at to get involved!
********************
Questions for you:
What is the best thing you ate this weekend?

What did you do to sweat this weekend?