Today is the final day of the Better With Veggies birthday celebration! Of course there's another giveaway (because I LOVE you guys!!), but first let's take a look at a few of my favorite fitness posts from the past year– maybe a few that are new to you (or you just forgot about by now).
1. The first one has to be my Ironman Austria recap. Still my biggest fitness accomplishment (and one I hope to repeat next June in Australia!).
2. Running on vacation in Utah – on Antelope Island.A beautiful location and a preview of the challenges of running at altitude.
3. New Orleans Marathon Recap– a 20 minute PR and the first marathon I really felt like I "raced".
4. My 3 Part Series on How to Fuel your Running: Pre, During, and Post-Run recommendations. I've actually been adjusting my nutrition during the run – so I'll have to do a follow-up when I really have it figured out.
5. Last, but not least, my tips on keeping your mind busy while running (Running Distractions) and the always tough Body Saw on the TRX as part of Tuesday Trainer!
Speaking of fitness…you're probably ready for today's fitness-supporting giveaway!
******************
So how do I fuel all my active fitness pursuits? First there's my plant-based diet, which I credit with helping me fuel my body with the best stuff possible. I also use a few great products that help me with energy and recovery. One of these products is the fitmixer® amino®!
I honestly had never really heard about BCAAs before Blend, and I was a little skeptical when I heard the benefits. But you probably know by now, I have been converted! It gives me great energy when taken before a workout and helps with muscle recovery after a workout. My friend Laura gave a great explanationof the benefits of BCAAs you should read, but the short explanation is that they go directly to your muscles.
And the fruit punch tastes good too!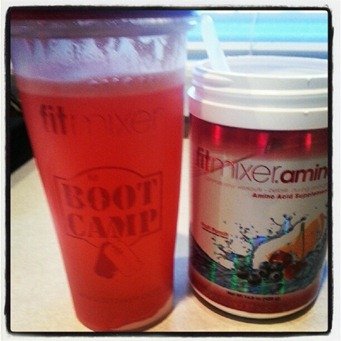 I use my fitmixer aminos after every strength workout – making a double batch and splitting it with Kirk. Healthy, good for our muscles, and delicious. I also take them before shorter runs instead of food– which I did often on my work trips to Australia and Texas earlier this year (energy + muscle fuel)!
To wrap up this week's celebration giveaways, I have a chance for you to win a bottle of fitmixer aminos to try for yourself! Just use the Rafflecopter widget below to submit your entries and check back next Monday to see if you won! Entries are accepted through Friday (August 31).
You can also find fitmixer on Facebook! Good luck!
Disclosure: I was not compensated for this review, but the giveaway prize is being provided by fitmixer.
******************
Make sure you enter every giveaway this week – you can tweet daily for extra entries!