I was so disappointed to miss out on the first WIAW April Challenge last week. This week – I'm happy to be back!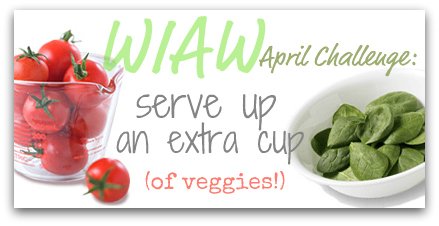 "Let's veg it up… with an extra cup!" – Jenn from Peas & Crayons
I have been digging these What I Ate Wednesday themes this year – love the focus on veggies (this is Better With Veggies, after all!). And this week I'm taking a more traditional approach and sharing my eats from yesterday.

A – Breakfast
Smoothies are one of my favorite (and easiest) ways to amp up the veggies in breakfast. In this morning's mix:
1 cup almond milk
1 handful kale
1 heaping tablespoon almond butter
1/2 cup frozen mixed berries
1 scoop Chocolate Sun Warrior protein powder
1 teaspoon maple syrup
1 heaping tablespoon ground flax seeds
1 tablespoon chia seeds
Surprisingly, this morning's smoothie wasn't green – guess those frozen berries really fought against the green color. And did you notice the Master's cup? 🙂
B – Lunch
Originally made for Monday night dinner – this meal made lots of leftovers and is perfect for several more lunches at the office! I tweeted to ask for meal inspiration on Monday afternoon and Krissy responded with a link to this Whole Foods recipe for Lentil Chili. A little picture on the side of the recipe showed chili over sweet potatoes – perfect!
This meal is so flavorful and the sweet potato adds a nice sweet note to the meal.
C & F – Snacks
I had two snacks before dinner – a Chipotle SeaSnax before my bike ride & leftover Chips & Salsa after the ride. If you're counting, that's two more veggies – seaweed (sea vegetable) and veggies in the salsa. 🙂
D & E – Dinner
Finally, it was dinner time! The green in tonight's dinner was from Thai Green Bean Salad from the Going Raw Cookbook. We used dried habaneros in the mix (which we had from a previous recipe) and WOW did that pack a punch!
For the main event, we made Green Curry Tofu Cakes from Fat Free Vegan, a very talented blogger (who you might remember I met at FoodBlog South). These are amazing! They set up perfectly in the oven and we enjoyed with a quick dipping sauce (ketchup, sriracha, horseradish, red pepper flakes, salt & pepper).
I'd say I added an extra cup (or more!) of veggie to my meals for the day. I'm doing a much better job of that recently, but I admit it does take some planning! With all the gorgeous fruits & veggies at the stores right now, it's a great time to concentrate on getting even more greens into your own diet.
*************************
Questions for you:
What is your favorite way to add veggies to breakfast?

What veggie-filled dish have you enjoyed eating this week?

Did you do your own WIAW post today? Link up in the comments, so I don't miss yours!