I usually have a hard time picking favorites, but not when it comes to Atlanta restaurants. For a special evening out, I choose Woodfire Grill's special tasting dinner.
You might remember Kirk took me here for my birthday last November. He suggested it again as a belated celebration of my new job – how could I pass up the opportunity?! This time, we brought our own bottle of sparkling wine to pair with the meal: 2007 Schramsberg Brut Reserve.
We are club members at Schramsberg, which is a sparkling wine house in Napa Valley. They were the first American sparkling wine served in the White House and our favorite! When we packed up the rest of our wine, Kirk held this one out for this occasion. 🙂
Okay, back to the dinner!
We always make reservations and give them a heads-up that I would like a vegan tasting dinner. You don't need to provide a lot of notice, we made reservations on Wednesday night for Thursday dinner. You might remember that Kevin was on Top Chef years ago. I don't ever watch Top Chef, but I hear that's impressive.
Our waitress informed me that while Kirk's "normal" dinner was made by the rest of the excellent staff, Kevin was personally creating & plating my meal on the fly – awesome!
We started with a cocktail – not one from the menu, but a "brown" cocktail created for us. They made sure to inform the creator that I eat a vegan diet, so there wouldn't be any unpleasant surprises in the drink. The bartender decided on a Scofflaw for me, which includes: dry whiskey, dry vermouth, orange bitters, grenadine, and lemon juice. It was the perfect way to start unwinding after an insane day of packing the house!
I should have written down Kirk's drink too, but I was too busy enjoying my own. It was also good though!
The meal started with our Amuse Bouche – which included sweet and tender golden beets. Always the tease, it was gone in one bite a great accompaniment to the cocktail.
We finished sipping our cocktails and our wine was served. It went perfectly with the rest of the meal – remember that sparkling wine is NOT just for dessert! =)
My first course was a salad of sorts, highlighted with golden beets, cucumbers, and parley. The light sauce really brought everything together, it was fresh and I admit to thinking about licking the plate when it was gone.
I have to apologize for this next picture. We were talking, laughing, enjoying the food…and I started eating before I snapped a picture! This soup was an incredible almond, cucumber, squash gazpacho – a cool soup, but with a contrasting warm topping. I wish you could have seen the original plating – sorry about that!
Another teaser dish was next, a taste of chilled carrot ginger soup with fresh orange. It was a little thicker than I would have liked (just a little harder to sip from the shot glasses), but the flavor was perfect. Just enough ginger to give a hint of spice, without overwhelming the carrot.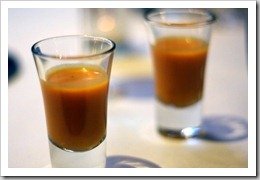 The third course was my favorite of the evening. Shiitake, morel mushrooms, and ragot of lady peas. Kirk was eyeing my plate the moment it came out – we both really enjoy mushrooms and the morels are something we rarely have. Mushrooms are so "meaty" without all the stuff I don't like and really infuse everything around them with their flavor.
Whenever we go to tasting dinners with many small portions, this is the time I always feel like I'm not going to get enough food. It seems like we've had so many course and surely dessert is next. But it's not, there's still a fourth course and it always leaves me satisfied.
This evening's fourth course included ovenstring beans (green & purple), tomatoes, shallots, arugale, and a lemon-ginger vinaigrette. The beans were just crispy enough and the vinaigrette coated the veggies very nicely. A great way to finish the savory courses.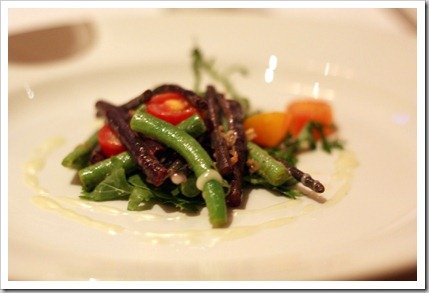 Fresh fruit and sorbet – such a typical vegan dessert. But when it's done right, it's got so much fresh flavor, you don't want anything else. A pineapple sorbet sits over strawberries, peaches, and a fruit compote that was the perfect ending to this amazing dinner.
After the plates were cleared away, we sat for a bit longer and chatted, while sipping coffee (decaf with Frangelico for me) and enjoyed an evening of peace before heading back to our boxes at the house.
We plan to visit Atlanta and our wonderful friends here often. I hope that we'll be able to work another visit to Woodfire Grill into our trips back. Truly a fantastic restaurant.
********************
Once again off topic, but you have to admit it's still food-related and in the last week, right?! So I'm still going to join the fun on Jenn's WIAW party – I'll leave it to the other lovely ladies to share fitness tips today! Wait – you can check out my latest running & triathlon workouts here and here, if haven't seen them yet. 🙂
********************
Questions for you:
What is your favorite restaurant?

Do you enjoy splurge dinners out or do you do something else to celebrate?