If you're spending time in the gym (or at home) on a strength training program, you want to get the most out of every session. While any workout is better than sitting on the couch, there are ways to get the most out of your time and have the best workout!
5 Tips for Your Best Workout
1. Have a Plan
Make sure you have a plan before you head to the gym. Moving aimlessly from one exercise to the next probably won't help you get the results you want. Start by determining your goal and choosing a program that best supports that focus.
Next, choose a training plan or work with a trainer to create a program specifically for you. Whatever you choose, make sure you bring the plan with you to the gym (or your home workout room) and follow the workouts as written.
2. Lift Slowly
One common mistake is to rush through your workout, using momentum from your previous rep to assist your body through the next rep. Unless your workout states otherwise, slow down to get the maximum out of each rep. Practice counting to 3-4 as you lift the weight, pausing for 1 second, then counting to 3-4 as you lower the weight.
3. Record your progress
Unless you have a photographic memory, it's pretty hard to remember what weights you use for each exercise. Make sure you log the sets, reps, and weights that you use for each exercise during your workouts. I personally use JEFIT (smartphone app), to guide me through my workouts, track weights, and track rest sets. Being able to look back is also a great way to see your progress in the gym, as you can lift heavier weights over time!
This is also a great way to avoid wasted time, as you don't have to guess which weight is best for each exercise (likely starting from a weight that is either too light or too heavy).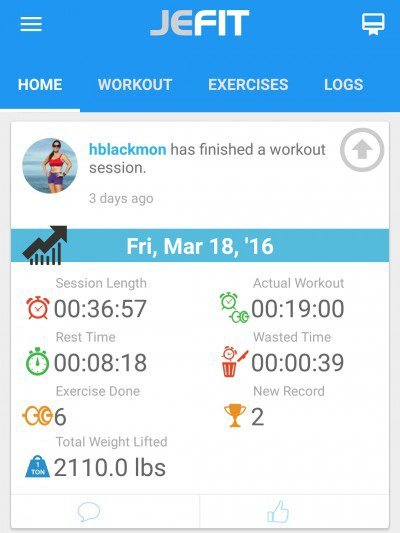 4. Eliminate Distractions
I never understand why there are so many people standing around chatting in the middle of their workouts. Make sure you're only resting as long as your workout prescribes to get the maximum benefit – and cut down on wasted time. I wear big headphones during my workout, which is a great non-verbal signal that I'm not there to talk. Watch the clock during your rest intervals (or use an app with a rest timer to prompt you) and keep moving.
If you're someone who gets distracted by social media s & emails, try putting your phone on airplane mode at the start of your workout to eliminate those distractions.
5. Mix it Up
Finally, remember to mix up your workouts over time. I don't recommend following the same program for more than 4 weeks at a time, make sure the plan you are following includes new workouts regularly. This strategy will help keep your muscles challenged (to avoid plateaus) and helps you stay excited about your workouts. I typically find that 2-3 weeks is the sweetspot for new training programs, although you may find that another interval works best for you.
[Tweet "Have your BEST workout by following these 5 tips. #fitfluential #gym"]
Bonus Nutrition Tip!
You've probably heard me talk about how important nutrition is to an effective fitness program. This bonus tip will help you maximize your workout, for both fat loss and strength goals!
6. BCAAs During Workouts
BCAAs (or branched chain amino acids) are important to muscle tissue and help maintain your blood sugar level. Your BCAA levels actually decline with exercise, so it's recommended that you sip these during (or after) your workout for maximum benefit. Look for a supplement that contains leucine, isoleucine, and valine to get the most benefits.
See Precision Nutrition's "All about BCAAs" resource for more on the benefits.