I'm always on the search or new things that make my life easier, better, or are just plain fun. Some of my finds are better than others – the better ones are worth sharing! With that in mind, I thought it would be fun to share a 5 Fitness Finds with you, because alliteration is fun and a few might be of interest to you too.
Disclaimer: Some of the links below are affiliate links and I will earn a  small commission if you purchase through those links. Some of the products were sent to me for an honest review, but all opinions are my own. I only share things that I would recommend to my family and friends.You can read my disclosure policy here.
[Tweet "5 Fitness Finds from @FITaspire, incl: deodorant, scale, pre-workout, fashion, headphones. #FitGear"]
I have been looking for a natural, organic deodorant that actually works for years. I have found a few promising options over that time, but nothing held up over the long run. It's hard to find something that can stand up to my adventures. I saw this deodorant at Whole Foods a few months ago and the packaging caught my attention. I googled reviews from the aisle and found several blogs that shared great reviews, so I decided to try it out. And it works! It's messy, but it comes with instructions and tips on how to minimize that. I have the Geranium Lime variety, which seems to work well for me. The different "flavors" are designed to work with different bodies and they offer a money-back guarantee to help you find what works. It doesn't prevent you from sweating (not an anti-perspirant), but I don't smell bad!
Believe it or not, we've never owned a scale. The absence of a scale was never a commentary on weight, it just wasn't something we wanted to spend money on. With my training, my weight is one of the factors in my nutrition plan (need to make sure I'm getting the right amount of food!) and I've had to remember to weigh at the gym – which I'm horrible at! I jumped at the chance to review this multifunction scale, which measures weight, body fat %, water weight, bone & muscle mass for up to 8 users. It uses Bio Impedance Analysis to determine your results, so you step on the scale barefoot for it to function.
Pros:
The scale looks good, very sleek and modern.
It takes up minimal space in our bathroom.
Bright, digital screen is easy to read when standing on it.
The weight appears accurate, it's consistent with the scale at the gym I compared it to.
Cons:
It rarely recognizes me automatically when stepping on the scale
The body fat measurement doesn't seem accurate to me, even on athlete mode. It records my current body fat between 17-19%, compared to 13% with the calipers.
The scale is very reasonably priced (less than $40 as of today), so it's a good value for what it is. If body fat is a critical marker for you, this doesn't seem to be the most effective measure. If it's more of an interesting item to see changes, it may be good enough.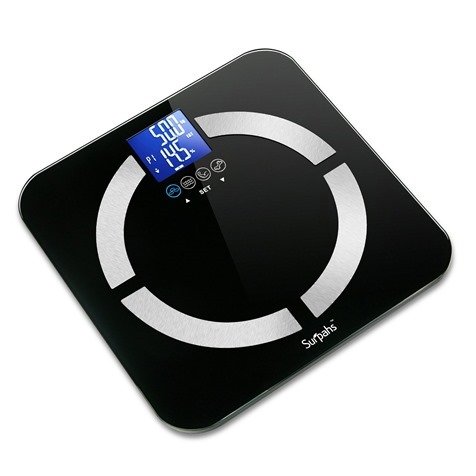 When I decided to try a pre-workout supplement for the first time, I looked to my friends or recommendations. I remembered Deanna (and instagram friend!) recommending HPN and decided it was worth a try. The ingredient list is pretty short for a pre-workout and the flavor options were interesting. I have been taking the Natural Peach Mango and the flavor is delicious! I like the slightly tingling feeling that I get after taking it, which tells me it's working. If you're sensitive to stimulants I would avoid this, but if you want to try a pre-workout to give you that little extra oomph to power your workout – this one is worth a try!
I first reviewed  Fabletics in June and since then I've been grabbing their gear more and more. Since then, I've been wearing a few new pieces from their June collection and loving them even more! I am really excited about their shorts – I'm going through a phase where I want to wear shorts to the gym instead of capris. I think that's due to the heat outside, the progress I've made in my legs (might as well show that off!), and the fun colors and patterns I have received!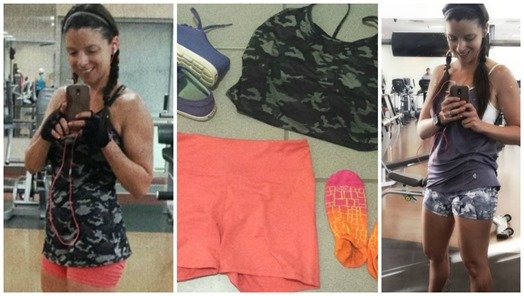 That's not to say I don't love that camo tank you see on the left above, but the shorts are my favorite!! If you're looking for affordable fitness clothes, remember you can save half of your first Fabletics outfit by using my link!
I had been using whatever headphones were laying around for my workouts over the past few years. The samsung headphones that came with my phone worked well enough for me and I used them until I lost or broke them over time. On the way back from Blend Retreat, I left my last pair on the plane. It was finally time to buy a real sport-specific pair. I had read a lot of great reviews about Yurbuds over the past year, so I decided to start with that brand. I picked PINK, because you know I love bold color. The first few days, they felt big in my small ears (even the small, female version). After a few days, that feeling went away, as I adjusted to the size. These headphones give my audiobooks and music great clarity while I'm working out and they really don't budge! I actually wish I had gotten them earlier – a great purchase and only around $25!
*******************
Questions for you:
Do you have any recent fitness finds to share?

Have you tried any of these products?