Tomorrow I turn 35. Mid thirties. This age that has been a dividing line in my mind for a very long time. It means next year I get to compete in the 35-39 age group in all running & duathlon events, over 35 category in WBFF bikini. I am officially in my mid-30s. And I finally decided it was time to dye my hair & cover a few greys.
But I'm not old, I simply have 35 years full of experiences under my belt. I actually have had more angst over this birthday than any before, but I'm settled in it now. It's just a number anyway, right?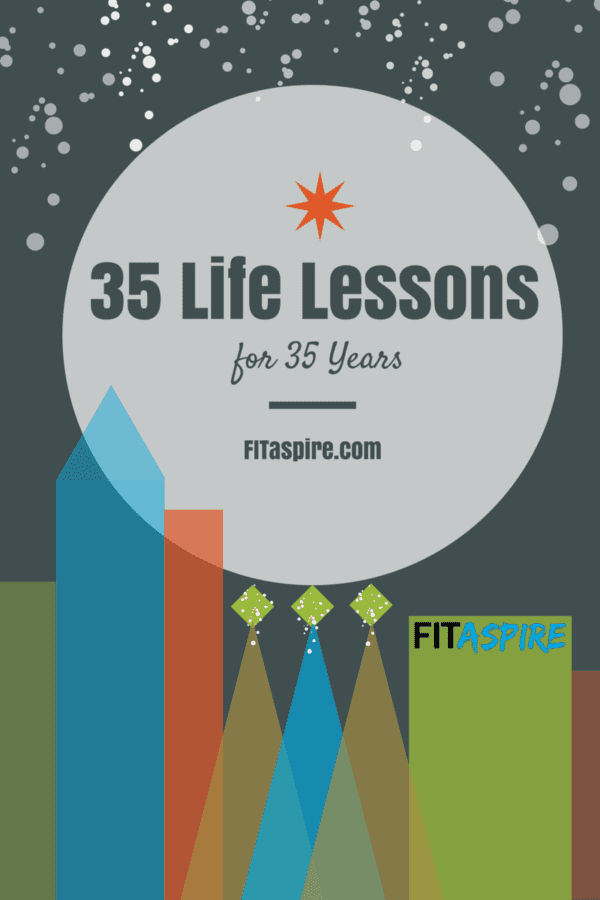 I originally saw this idea of life lessons on Katie's blog a few weeks ago and thought it was an interesting one. Ignoring the fact that my list will include 8 more items on it, I knew immediately this was something I wanted to do.
And remember – there's always someone older and younger than you. So don't get caught up in what your number says. You can remind me of that if I start to lose perspective.
35 Lessons for 35 Years
Smile every day. Especially when you don't feel like it.
Learn to listen. It's a valuable skill in all areas in life.
Start saving money for retirement as soon as you start working.
Do silly things as often as possible. It's great stress relief.
Travel often. Experiences last longer than things.
Don't put your health on the backburner. Exercise, eat right, visit the doctor.
Make time to do nothing. Relax.
Going through life is better with a friend. Even better when your spouse is your best friend.
If you are unhappy, do something about it.
Give away a portion of your money every month to support a cause you believe in.
Learn another language. Or at least try.
Be friends with people who are different than you.
Save monthly for the important things. Like vacation. Vacation funds make life fun!
Pay off your credit card every month. If you're in debt, make a plan to get out & stay out.
Try new things. Don't let fear hold you back!
Learn when to put down the camera and live. But also to pick up the camera and capture memories.
You don't need everyone to like you.
Support those around you. Always look for ways you can help your family, your friends, your co-workers.
Live your beliefs, don't compromise for others.
Always look for opportunities to learn new things.
Explore your city. Where you live has its own wonders and is often overlooked.
Inspire someone to do something.
Don't be afraid to fail. You will regret things you've never tried more than risks that didn't pan out.
Admit that you don't know everything. But try to learn something new every day.
Don't compare yourself to others, unless it's motivate you to improve!
You can choose your attitude, regardless of the circumstances.
Don't save the good stuff for special occasions. Sparkling wine makes a Tuesday night special!
Life gets better with age!
Don't go to bed mad. Talk it out, yell it out, work it out. Whatever it takes.
Eat your veggies.
When someone gives you a complement, say "thank you".
Complaining regularly is not good. Not for you and not for others. Don't make it worse by complaining often on social media.
Drink more water.
It's okay to change your mind.
You will make mistakes. Put them to good use and learn from them.
[Tweet "Sharing 35 life lessons for 35 years – @fitaspire is sharing her birthday #wisdom."]
*******************
Questions for you:
What life lesson have you learned recently?