This first week of 2019 actually feels like a new year to me. Last week was just odd & I couldn't really wrap my head around a new year. Now that things are back to normal –  I don't typically make resolutions, but I couldn't even think clearly about what I wanted to do next week!
While resolutions aren't really my thing, choosing one word is something that works for me. I don't know who started this trend, but it's a great way to focus on what's important to you and to guide your decisions through the year. I use this one word to set goals throughout the year.

My word for this year is: GROWTH
With that in mind, I have spent some time over the last few days thinking about my one current goals. Most of these will evolve throughout the year (and some are a continuation from last quarter). My approach is to review these and update them at least once every 3 months, to make sure they are still supporting my overall goals.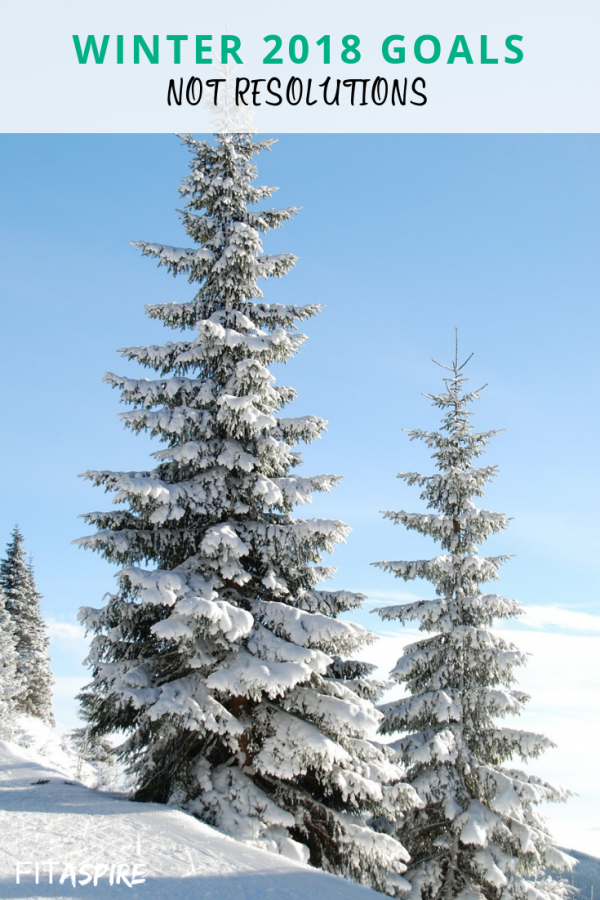 MY GOAL LIST
1. Running + Snowboarding

One of my favorite things about Colorado is snowboarding! For the past 6 winters, other sports take a backseat to my favorite snow sport. But this year, I have my sights set on a 50K in June. That means more running and higher mileage throughout the season. This is already a tricky balance for me (which I expected), so I'm really working on finding the right schedule for me. (You may have seen me talk about this several times recently on Instagram)
2. Health & Self-care
Now that the holiday season is over, it's time for me to refocus on a more consistent healthy routine. This means paying more attention to my nutrition (following the 131 method) and being consistent with my daily health habits. I was pretty lax about both the last few weeks (and ended up with a head cold), so it's time re-establish the nutrition & habits that make me feel my best.
3. Knitting
A few months ago, I pulled my yarn and needles out of storage and started knitting again. I know, it's not health or fitness related — but it has been great for my MENTAL health. And it's darn addicting. It forces me to NOT be on my phone as much during downtime, because it's really hard to scroll on your phone and knit. I learned to knit online using Bluprint (they have a great library of classes!), if you're interested in trying it for yourself. And if you're a knitter, you can find me on Ravelry here.
4. Relationship with God
As a Jesus follower, this is an area that's really important to me and I always want to focus on. Last year was the first time I read the full bible in a year (it took me about 15 months last time) and I'm ready to do it again. I learned about the Bible Recap, which is a podcast following a chronological plan and recapping the day's reading. It's kind of like reading the bible with a big group of people + listening to a daily devotional that goes along with it — from anywhere in world. (kind of like online personal training, no wonder I like it) 

I also joined a local bible study to add more accountability & community to this aspect of my life. It's always challenging with my schedule for local events, but I decided to ignore that excuse this month. 
5. Simplify Life
I have been working on this goal for a few months now, but there's still plenty of room for growth. I am working to simplify my life, so I have more time to give back & to do what I truly love. One way I'm doing this is working on my closet — so I signed up for a "style challenge" using a capsule wardrobe + daily outfit prompts. One of my friends shared this with me & I've been surprised how refreshing it is to simplify my closet. It's really nice to have a calendar of outfits to wear all winter, so I don't waste time staring at my closet & debating what to wear each day. (and packing is even easier). I chose the Winter Style Challenge by GYPO, in case this sounds like something that would help you.


I'd love to hear about your current goals – whether that's a word of the day, New Year's resolution, or just what you're working toward right now. Hop over to the Insiders community and share your goals with us there.