This post could also be named "All the Food I Ate Out of Bowls!". Funny how that happens sometimes!
But first….News Flash….I got back on my bike!! I've been off the bike since my last race in August, which means about 3 months. It's been kinda nice to only have one sport, but it's also time to start easing my way back into multisport training again. Just an easy 30 minute ride on the trainer while watching the new Prep & Landing, but good to start to work those muscles again. I need to get used to sitting on the bike seat again!
Now back to your regularly scheduled programming…
What WIAW isn't about

Comparison – Judgement – Restriction – Guilt

What WIAW is about

Celebrating one of the glorious things we all have in common: We all eat!

WIAW is about food and fun! It's about making new friends, breaking out of a food rut, inspiring yourself & others, embracing fruit & vegetables, finding new ways to eat your favorite foods, and so much more <3

Celebrate blogging. Celebrate Food. Celebrate Individuality.
Breakfast
I made Steel Cut Oats on Monday morning and I always make 4 servings at a time. The base was gingerbread flavors – with ginger, cinnamon, nutmeg, cloves, salt, and molasses. This morning I added some maple syrup and chocolate chips to the mix to make it a little sweeter.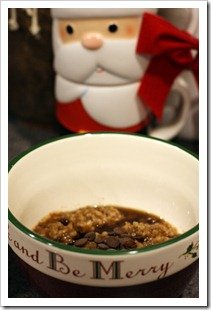 Snack
I was in a workshop at the office all morning and a friend shared a handful of almonds. I don't think I've ever actually munched on almonds – I get why people eat these as a snack!
Lunch
Today's leftover lunch was Pumpkin Tempeh Chili from my friend Laura (Sprint 2 the Table). The only tweak I made was to used dried habeneros and probably increased the amount too much, but it was so warm and comforting.  No matter how much you like spicy food, don't bite into a dried habenero – it's stupid. Not that I would do anything stupid like that! 😉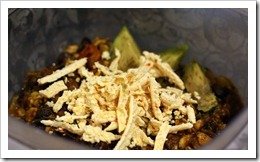 Last minute photo before heading out for work
Snacks
I am always munchy on Tuesdays for some reason. Today's snacks were a few French Twists that someone at work gave me and a cup of Miso Soup.
Dinner
Tonight's dinner was another Vegan Yum Yum recipe: Dal Makhni. This lentil based dish was good and the cashew cream on top was fantastic, but it wasn't one of my favorites either.
Snack
While not an official snack, I have no self-control while baking and ate copious amounts of chocolate cupcake batter while making cupcakes for a work party. I decided to try frosting them at the office before the party, since I can't figure out a good way to transport them and make sure they still look pretty. This is either a smart idea or a messy idea – we'll find out!