Happy Hump Day! I'm so excited we're halfway through the workweek again – meaning it's time to share What I Ate Yesterday on this week's What I Ate Wednesday post!
What WIAW isn't about

Comparison – Judgement – Restriction – Guilt

What WIAW is about

Celebrating one of the glorious things we all have in common: We all eat!

WIAW is about food and fun! It's about making new friends, breaking out of a food rut, inspiring yourself & others, embracing fruit & vegetables, finding new ways to eat your favorite foods, and so much more <3

Celebrate blogging. Celebrate Food. Celebrate Individuality.
WIAW is hosted by Peas & Crayons and features lot of great (usually interesting) meals for you to discover. I'm sharing what I ate on Tuesday (yesterday) in each WIAW post.
Breakfast
Tofu Scramble with Avocado, Mushrooms, and Tomatoes & Mini Bagel with (non-dairy) Sour Cream & Jelly. Yes, the sour cream is weird, but I found out when I'm out of cream cheese the sour cream works if you don't slather it on heavily.
Lunch
This is not a pretty picture, but it was tasty! Gorilla Food Green Tacos, served on a bed of greens (instead of wrapped in romaine lettuce leaves). It a raw meal comprised of Walnut Chili Pate, Guacamole, & Salsa (made with yellow tomatoes). Although an unattractive meal, it was delicious! I do wish I had packed something else to serve with this, as I did get hungry again after a few hours.
Snacks
Since I got hungry a few hours after lunch, I broke down and had a pack of Oreo Minis (they are almost gone – yeah!).
On my way out the door, I made a cup of Miso Soup in a coffee cup to drink on the way home. I did this on Monday on the way to yoga and loved it!
More Snacks
I have no idea why I was so hungry today, but I made another snack when I got home! I got this idea from a few other blogs and covered a Rice Cake with Peanut Butter & Moonshine Jelly. I also gobbled up 2 dates – my new sweet treat.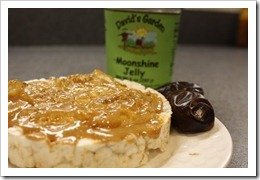 Dinner
Finally getting around to dinner, I made Kale Chips and Asian Noodle Bowl with Spaghetti and Almond Chili Sauce. I massaged the Kale with a mixture of cashews, lemon juice, nooch, red pepper flakes, garlic, and water. Once massaged, I sprinkled the prepared leaves with more nooch and salt before baking. Yum! The Asian Noodle Bowl is another recipe from Thrive Foods, but it's supposed to be made with Kelp Noodles. I never got to an Asian Grocery to find Kelp Noodles, but I think the spaghetti worked well.

Honestly, I only ate a few bites of the Asian Noodle Bowl, because all my snacking finally caught up with me. I'm trying to actually STOP eating when I feel satisfied, so I reluctantly packed the leftovers in Tupperware for tomorrow's lunch.
Question of the Day: I'm always looking for new snack ideas – what are your favorites that I HAVE to try? Either recipes or pre-packaged ideas are fine with me!