Sorry for the late post today – but it's already been a busy weekend around here! After last night's fantastic 5-course tasting dinner at Woodfire Grill (all the details and pictures in an upcoming post), we were in bed late last night. So, we slept in and relaxed before heading out for our weekend runs. I had a 16 miler today and Kirk ran the first 12 with me. Those last 2 miles were tough, but I made it through okay. This is always the first mileage when I realize I'm really training for a marathon again.
Now we're headed off to watch the Dawgs play the Tigers in the SEC Championship. I don't really expect the Dawgs to win today, but I'd like them to put up a good fight.
Any fun plans for your weekend or are you just taking some time to relax?
Weekend Recap
Now it's time for a recap of the last week's posts, just in case you missed something!
1. Monday: Decking the Halls with Chocolate Chip Apple Pancakes A great way to celebrate the Christmas season is with a pile of Chocolate Chip Apple pancakes overflowing with whipped cream. Make sure you mark check out this yummy recipe!
2. Tuesday: Tuesday Training: 4 Things I Learned From Hot Yoga Have you tried Hot Yoga yet? This was a new style to me that I am hooked on after 3 classes in November. Find out some of the things I learned from Hot Yoga.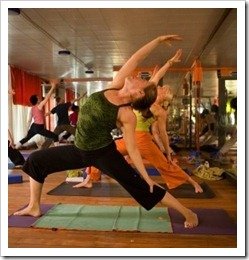 3. Wednesday: What I Ate Wednesday – Birthday Edition! My birthday was Tuesday, which means this week's What I Ate Wednesday is all about the food I enjoyed on my birthday – including a review of R Thomas Deluxe Grill in Atlanta.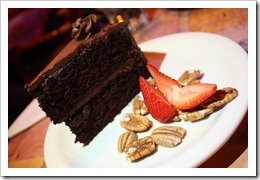 4. Thursday: 30 Days of Yoga Challenge – DONE! I've talked about the 30 Days of Yoga Challenge a few times in November – come read about my thoughts now that I finished all 30 days with at least 20 minutes each day (including 2 – 60 minute sessions & 3 – 90 minute sessions). Yay me!
5. Friday: Guest Post: Making an Easy Dinner That Fits Your Caloric Needs And finally, Melissa guest posts and shares her tips on making a superfood rich dinner that fits your caloric needs.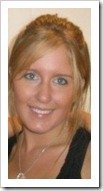 Now we're off to the game! If you don't already have a team to cheer for today, I hope you'll join me in yelling GO DAWGS!!