Are you a breakfast for dinner fan? Well, then you'll love today's breakfast for lunch meal that I enjoyed! This was another great make-ahead recipe, which I prepped last night and put in the oven this morning while I was getting ready for work. Today's special: Italian Frittata, created by Allison Rivers Samson and originally published in her VegNews Magazine column, "VeganizeIt!".
Have I mentioned Allison just won the 2011 Veggie Award for Favorite Column: 'VeganizeIt!' – how awesome is that?! After eating her delicious recipes for the past few weeks, I can safely say that's an award well-earned!
Now back to the food. In case you haven't had one before, a frittata is traditionally an egg-based dish with meats, cheese, and/or veggies – so I was very interested to see how we were going to re-create that texture and flavor without any egg. Meat and cheese are easier to imagine, but that egg base had me puzzled.
The substitute? Garbanzo bean flour base that thickens up nicely and is chilled overnight (or for at least 2 hours). Interesting…
Following the directions, I thickened the garbanzo flour base: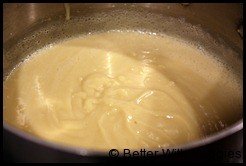 Sautéed the onions and broccoli:
And then combined and poured into my pie dish (my tart pan stand-in). I did use Himalayan Pink salt, instead of the kala namak.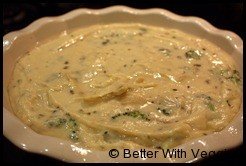 Instead of a couple of hours, I took a suggestion from Allison's blog and let this sit overnight to save some waiting time. In the morning, I baked the dish while I got ready for work. The plate came out of the oven nicely browned:
After slicing, I realized it probably could have baked for a little longer to set up a bit firmer, but nothing to worry about. The result was beautiful, looked like an egg-dish, and the taste was great! The texture wasn't quite egg-perfect (again, this might have been resolved with a bit longer cooking time), but the flavor was delicious. A nice light lunch, which I served with a quick green salad. This would certainly make a great breakfast, brunch, lunch – or even dinner!
Question of the Day – Are you a breakfast for lunch or dinner fan? What's your favorite choice for breaking those tradition serving time rules?