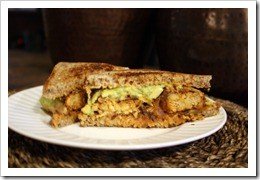 I've had several versions of both vegetarian and vegan Reubens over the past 6 months (I transitioned to a vegan diet just under 2 months ago). In most cases, I think calling the veg*n version a Reuben is a stretch. The ingredients have usually been avocado, thousand island, sauerkraut, and sometimes a type of cheese. The miss for me has been the corned beef texture and flavor – that is completely left out of the sandwich.
In another stroke of VeganizeIt! genius, Allison has overcome this problem for me again! In this version of Grilled Tempeh Reuben, created by Allison Rivers Samson and originally published in her  VegNews Magazine column, "VeganizeIt!", the missing ingredient is found in a slow-cooked & glazed tempeh.
The recipe starts with browning the tempeh on all sides. After browning a pile of onions, the tempeh is simmered with a mix of spices and some water for about 30 minutes. This is where the magic happens – the tempeh gets infused with tons of flavor and the consistency is softened a bit (look how gorgeous it looks in the picture above!). Use this time to make the thousand island dressing for the sandwich.
Once the marinating/glazing is complete, I toasted the bread (I used Ezekiel Whole Grain) in a separate pan with a slight dabbing of Earth Balance. While in the pan, I added thousand island to both slices of bread, top with 2 slices of tempeh, onion, sauerkraut, and avocado. Remove from the heat and stack to make a nice thick Reuben Sandwich.
Biting into this sandwich is the experience I was looking for. The tempeh crumbles like I remember corned beef feeling. This sandwich is packed with flavor and just what I want from a Reuben – it just also happens to be vegan! This is in my top 3 recipes VeganizeIt! recipes I've made this month (up there with the Tofu Bacon and Granola Bars).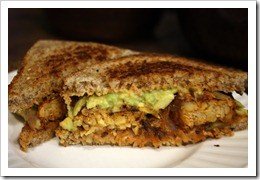 Delicious!
Question of the Day – What is your favorite sandwich? Have you found the perfect recipe that you make at home or do you have a restaurant you must visit to the one?