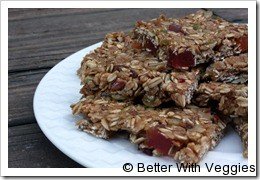 The toughest pre-packaged foods for me to avoid are snacks. Something I can have in my car, at the office, throw in my workout bag – convenience is key! That's why I was excited to try making these granola bars. I have attempted a few granola bars in the past, but I haven't found one I really loved. This is a recipe I can actually see making again – changing up the ingredients each time.
Today's Granola Bar recipe is created by Allison Rivers Samson and originally published in her VegNews Magazine column, "VeganizeIt!". Another quick and easy recipe – this is one I can see bringing your son or daughter into the kitchen to help out.
To start – throw all the dry ingredients on a tray and toast in the oven (or toaster oven, as I did). Next heat up the wet ingredients until the sugar melts, then add the dry ingredients and stir well. In the mix: cranberries, dried papaya, & dried mango. Last, spread the mix into a square pan lined with parchment (or wax) paper.
Cook for 25 minutes, cool, and slice – that's it! These are the chewy kind of granola bar, which means they do tend to crumble apart a bit, but I like this kind so much better than the crispy variety.
I individually wrapped these goodies for snacks the next few weeks (if they last that long).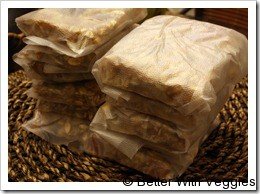 ————–
Have you entered this week's giveaway to win a  subscription to VegNews Magazine. Click here for all the details and instructions on entering today! Entries are open through this Friday at midnight.
Question of the Day: What's your favorite on-the-go (or at the office) snack food?