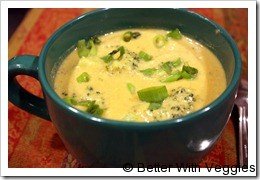 My favorite time to enjoy a big mug of soup is when I'm getting a cold – or trying to get over a cold. Lucky for me, I made this soup earlier this week. Unlucky for me, I am actually fighting a cold – darn! So while I load up on Vitamin C, I am enjoying this veggie-loaded Cream of Broccoli Soup, created by Allison Rivers Samson and originally published in her VegNews Magazine column, "VeganizeIt!".
Unless you forgot to get cauliflower at the store and have to run out to get that – this is a really quick recipe to make!
My blender had no problem pulverizing the cashews to make the soup base. Remember to use both the stems and the florets from the broccoli, because you will want to keep the florets out of the soup until the end (so the soup doesn't turn green). I actually love broccoli stems, but many people don't use them in cooking. The full broccoli with stems attached is usually cheaper at the store, so this is a great way to stretch your dollars in many recipes!
I don't have an immersion blender, so I transferred the soup in batches to my regular blender. If you're using that technique, remember to remove the center from the top and cover with a dishtowel. If you try to blend hot soup in your blender with the top completely sealed, you'll have a mess to clean up when the heat pushes the top off and liquid sprays all over your kitchen!
After creaming in the blender, I added the broccoli florets and cooked for another 10 minutes (a little longer than the directions).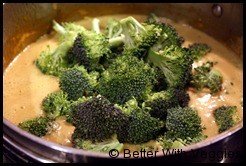 At that's it – 6 generous portions of soup are ready for your enjoyment! It's a wonderful thick soup, very filling and satisfying. I probably could have cut the broccoli florets into slightly smaller pieces, but not a big deal.
Question of the Day – What is your favorite kind of soup? Do you have any "magic" cold remedies that I should know about?