It's Day 6 of VeganMoFo and I have a very full fridge of food! Thankfully, I planned a side dish today which paired perfectly with leftover Tempeh Chili. My Grandpa & Dad joined us for this yummy dinner tonight, featuring American Potato Salad, created by Allison Rivers Samson and originally published in her VegNews Magazine column, "VeganizeIt!".
We pulled this dinner together very quickly after work, after squeezing in a 5 mile run and with our dinner guests arriving a half hour before scheduled. It's a good thing this was another quick recipe! The potatoes in this version were steamed, which I don't think I've ever done in potato salad before. You'll notice the skins are still on, which also ups the nutrition factor. This recipe took just under an hour from start to finish (including chopping the potatoes), but much of that time is non-active (steaming & letting the potatoes cool).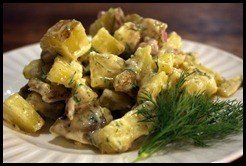 The verdict? Another winner! A very light flavor from the Vegan Mayo really allowed the dill flavor to shine. It's a very fresh taste, so even if you're not usually a "mayo" based potato salad fan, I think this one is worth a try. My Dad really liked the crunch of the celery in contrast to the soft potatoes (He really did say that – although in his best "silly food critic" voice).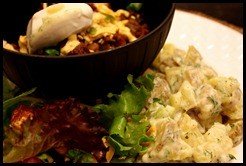 The green salad was served with a homemade jalapeno vinaigrette (with jalapenos pulled from the garden), which is a recipe to share another time.
Question of the Day – What's your favorite kind of potato salad? Allison talks about the flavors of German, French, Texas, & Waldorf on the recipe sidebar. My favorite is German – which I'll be attempting on Saturday!