Kicking off our Tuesday Training is Meet The Trainer on this week's Tuesday Trainer. If you're new to Better With Veggies, this is a fun feature hosted by Lindsay from Lindsay's List that highlights workout a different workout focus each week. This week is rest week, which means each "trainer" has posted a video answering questions about themselves. This week's questions included:
What is one type of workout that you can't live without?
What time of day do you workout?
Do you subscribe to any fitness magazines?
If you could choose to have one super human power, what would it be and why?
Give me some future Tuesday Trainer theme suggestions!
I hope you'll check out my video this week and let me know – is the new format too grainy? I recently found I can use the video cam on my computer, but the quality is not as good as it was on my phone. It's a lot easier to do (I don't have to find a time that Kirk is also free to record me), but I know it's a little less fluid. What do you think?
Pumpkin Chia Breakfast Pudding
Any athlete worth their salt knows that diet is important for performance. Now whether they choose to do something about it is a different story.
The ideal situation is a healthy option that is also tasty. I think I have found a good solution in today's Chia Pudding recipe, based on last week's Breakfast Chia Pudding from Thrive Foods, but kicked up a notch. Are you tired of pumpkin recipes yet? Good, me neither!
Pumpkin Chia Breakfast Pudding
Ingredients
¼ cup chia seeds
½ cup water
½ cup non-dairy milk (I used Sunflower Seed Hemp Milk from Thrive Foods)
½ cup pumpkin
1 teaspoon pumpkin pie spice
1 tablespoon maple syrup
3 raspberries
Instructions
Combine chia seeds and water and let sit for at least 15 minutes. Here's where I typically take a shower and get ready, while the chia & water soak.
Add non-dairy milk and mix until combined.
Add pumpkin and mix until comibined.
Add maple syrup & pumpkin pie spice, mix until all combined.
Top with raspberries
Enjoy!
For me – this is a delicious combination of healthy, filling foods that satisfies my hunger until lunch.
Building Your Schedule
This is the time of year that I start to think about the next year's races. I know it's still November and still two months left in 2011, but it's also the time of year that I want to make sure I'm preparing correctly for the next season.
I take a long-range look of the year and have a spreadsheet (I'm a spreadsheet nerd!) that lists all the months of the year. Then I start inserting my races and when things conflict, I can decide which race is more important than another.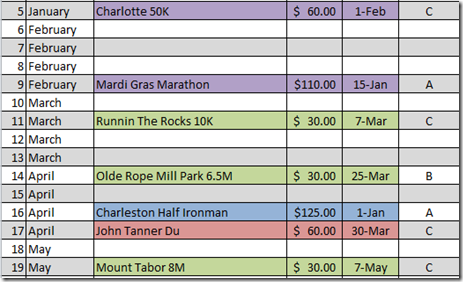 I categorize races by A, B, or C. A races dictate where my training will be focused – which races will I be focused on performing my best at? In the snapshot above it's a my spring Marathon and Half Ironman. Typically you can hold peak conditioning for 6 weeks, so this 7 week stretch between my two A races may or may not work.
Next step is to look at secondary, or B races. These are races that are less important than my A races. I may not be in peak shape for these race (I will not be training specifically for them), but I will get a bit of a taper.
Finally, the rest of the races get a C rating. These are races that I will train through, no taper to rest my legs before the race. These are the least important races, but are still a lot of fun! You can do as many C races during that season that you wish.
My final step is to add in the cost and price increase of each race, so that I know how to budget my spending money throughout the year. This schedule is not carved in stone, but will help me plan my training over the upcoming weeks, months, and overall year.
I know this is a REALLY high-level overview, but hopefully it gives you a glimpse into planning your calendar for the year. I highly recommend a coach to help you plan your schedule and training for year, but I also realize that not everyone will choose that route. I had an AWESOME coach for years that really enabled me to be the athlete & person I am today (thanks Brett!).
Now sit down and think about what races you want to participate in over the next year – whether that's one race or 10 (or 20!).
Lastly, my yoga challenge for the month of November is going very well! I'm actually following Option B so far, even though my goal was the Option A challenge. Look for a full update, plus yoga video reviews on Thursday!
Question of the Day – Have any fabulous races you are thinking of for 2012? I'd love to hear about your big goals for the year; I'd love to support you in any way I can!