Ingredients
1 strawberry
¼ teaspoon brown sugar
¼ cup earl grey tea
2 small sprigs rosemary
¼ teaspoon Herbes de Provence
1 square Puff Pastry (about 3 inches square)
Instructions
Cut two quarter-sized circles of puff pastry and cook according to package instructions.
Add rosemary and Herbes de Provence to hot earl grey and microwave for 30 seconds. Transfer to small pan and reduce for 5 minutes.
Smash strawberry and stir in brown sugar until combined.
Place one puff pastry circle on plate (or chinese spoon), top with smashed strawberry mixture, drizzle tea mixture, and top with remaining puff pastry circle.
Make plenty of tea for the amuse bouche, so you have enough to make the cocktail, as well. I've had this one both warm and cold, both are good options!
One Shade of Grey
Ingredients (serves 4)
1 cup of Earl Grey tea
1 cup of Gin
4 teaspoons Chambord
Instructions
Combine all ingredients in a cocktail shaker filled 3/4 with ice. Strain into 4 martini glasses.
********************
You'll have to wait a little longer for the remaining courses, but I'll leave you with the December ingredients for Meatless Mondays from A-Z!! Just three again this month, so you have some extra time to relax for the Christmas and New Years holidays.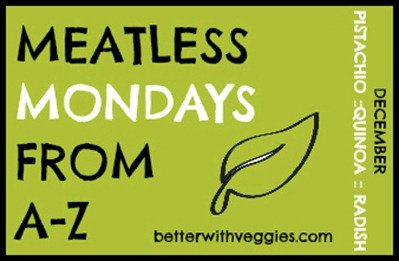 I'll admit that I'm most excited about the first week – I love the green of pistachios!
December 3: Pistachio
December 10: Quinoa
December 17: Radish
********************
Questions for you:
How was your Thanksgiving?! Did you go shopping on Black Friday?

Do you enjoy cooking for friends & family?

Which #MMAZ ingredient are you most excited about?