For my birthday, the best guy in the entire world treated me to a 5-course tasting dinner at Woodfire Grill. Sorry ladies – he's all mine!
Woodfire Grill has a normal menu, but both times I've visited we've ordered a tasting menu. A set price for a 5-course meal that the chef creates. When we made reservations, we let them know I wanted a vegan menu and they were more than happy to oblige.
We arrived a few minute early, so we started off with a cocktail. In my case, a Wassail Cocktail:
Wassail is so wonderfully wintery, it was a great start to the meal. Rum, applejack, cider, white port, and talisker – yum, yum! While we waited to be seated, I opened my second present from Kirk – a new lens for my camera! I had asked for a 50mm lens for all these food pics I'm taking now and immediately put it on the camera. All the remaining photos on today's post are taken with my brand new lens. Kirk spoiled me this year!
To start the meal, they brought out a personalized menu – do you see my name at the top?! Who does that? So cool!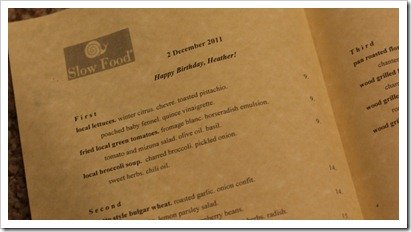 I didn't really need the menu though, since we went straight for the tasting menu WITH wine pairings. Did I mention my hubby rocks?!
We started the meal with an amuse bouche paired with sparkling wine, named regent's punch. I don't remember the minute details of this gelée, but it was stone fruit and the directions were to eat it and chase it with the Marques de Gelida Brut Reserva (2006). A light and tasty way to start the meal. Plus, we still had plenty of sparkling to enjoy before the next course.
When the first course was served, I still had some sparkling left – which I polished off shortly after. The champagne glass on the left is the sparkling above and the white wine glass on the right is the Chardonnay for the first course.
The first course was vegetable pickles, tahini, and fried pita. This reminded me of the first course we had at Gymnopedie, so comparison were natural, but they were so different it was hard to pick a favorite. The fried pita was a surprise – the crisp texture with the pickled veggies was great. Not a strong pickled flavor, but fresh and flavorful. The wine pairing for this course was a Chardonnay (although they don't use grape names on French wine) – Domaine De Montmeix, Bourgogne AOC (2008).
The second course was roasted wild chanterelles and butternut squash two ways. Did you notice the micro-celery on both the first and second course – is that a trend I wasn't aware of? As compared with the first course (light and fresh), this was so nice and warm. For this course, I had a glass of L'Ecole 41 Semillon (2009) – which of course paired beautifully.
After the second course came a Taste to cleanse the pallet, which I completely missed a picture of, but was delicious. I'm pretty sure you know what sorbet looks like anyway, right?
The third course was risotto style bulgar wheat, roasted garlic, onion confit, spicy tomato, lemon parsley salad. I'm used to seeing confit as something cooked in its own fat, so I was curious about what that meant. One of the great things about Woodfire Grill is how knowledgeable everyone who works there is about the food – so the nice lady who brought out this course explained that confit is food cooked in fat (olive oil, in this case), not always the fat of the food.
I loved how many different flavors were in this dish, but they melded perfectly together. And although this is cooked in fat, don't think of this being greasy or oily – it was rich and creamy. This course was paired with Louis Téte le Pot, Beaujolais-Villages AOC, which was full of fruit and medium-bodied.
The final savory course of the evening was the most creative, in my mind. Slow roasted vidalia onion, roasted garlic, black-eyed peas, roasted sunchokes, charred broccoli chow-chow, and caramelized meyer lemon. Now that is a long name! We discovered sunchokes last year, but rarely see them out, so my ears perked up immediately. If you haven't tried these yet, they are actually in the sunflower family and are also called Jerusalem Artichokes (although not related to artichokes at all). They typically have these in the produce section at grocery stores this time of year, so look for them next time you're there.
Look at that beautiful presentation! I destroyed 'the pretty' very quickly and chopped this up into a pile of veggies.
The roasting of the veggies really brought out the flavors. This course was paired with a Muga Blanca, Rioja DOC – this is the first time I've heard of a white Rioja honestly!
My dessert course for the evening was morello cherry sorbetto with chocolate sheets paired with Warre's Otima 10 Year Tawny. I love sorbet and there were also cocoa nibs in the bottom of the bowl – holy crow, how have I not tried those before!
How did I remember all these details? They printed off a menu of our tasting to bring home. Now, there were a few mistakes, but it was darn close! The taste & the dessert listed on the menu were actually what Kirk got instead of me (he didn't have the vegan menu), but I noticed it before we left and made a few notes after talking to our waiter.
The only negative I can think of for this experience is that I can't come here all the time. The meal was definitely pricey, but worth every penny! Writing this post, I'm drooling again and really wish we could go back next week. If you are in the Atlanta area and looking for an amazing meal, I highly recommend Woodfire Grill. The price tag isn't quite so bad without the wine pairings, so we may go back for a scaled down version in a few months.
What amazing restaurant would recommend in your area?