Before we get to the food, I have to start out with a big GO DAWGS! We were in Athens for the UGA vs Kentucky game, our final SEC game of the season, where we clinched the SEC East Champions title. It's wasn't pretty, but a Win is a Win!
We actually made reservations for Gymnopedie during the game last week (it was a boring game) after looking on Happy Cow to see what options were in the area. I have the app and it's really handy when I want to try something new.
Instead of eating dinner "retired people" early, we made "slightly old people"  reservations for 6:30PM. We headed to get a few drinks at Trappeze before dinner. I had a not-so-good experience here a few months ago, but the bartenders were wonderful this time around and the selection of beers is always fantastic.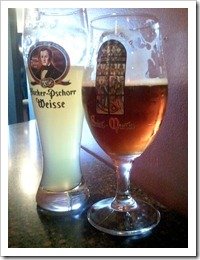 This is when I discovered that my SD card in my nice camera was at home – dang! Of all the nights to leave that sitting in the computer… So I apologize now for the less-than-stellar phone pictures.
Gymnopedie is a tiny, 12-seat restaurant located outside of downtown Athens. It's run by Sarah Dunning, who is also the "chef/ baker/ pastisser/ webmaster/ dishcleaner/ eventsguru/ sommelier". We got the chance chat with her throughout the meal, which really added to our amazing  experience! Here's an excerpt from the website about the concept:
Each month we create a small tasting menu, consisting of 6-8 dishes that can be ordered as a series or a la carte. The dishes orient around distinct seasonal flavors. We want you to experience clean, fresh flavors; seasoned with a delicate touch. Some dishes will be completely new to you while others are classics. It's a culinary adventure in your own backyard — designed to pique your curiosity and satisfy your senses.
On Sarah's recommendation, we decided to get one of each dish and shared them all. Coincidentally, this is one of my favorite ways to enjoy a dinner – lots of small plates and lots of sharing! We also split a bottle of Croix Blanche, which was made with a grape we were both unfamiliar with (and I cannot remember!). It was a nice, crisp white that paired well with our entire meal.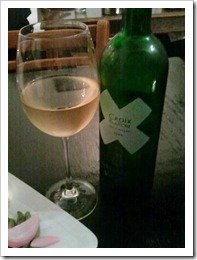 The meal began with a pickle plate of onions, green beans, and beets (I think!). The flavors were light and the vegetables really shone through. Each had a nice crisp, not the soft texture you get out of a bottle.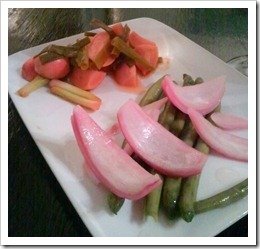 Next we enjoyed Southern Sushi and Turnip Salad. The sushi was made with shredded carrot, local greens, and a lima bean-pecan crumble. I love sushi and this dish reminded us that sushi is all about the rice, not the fish (thank goodness). I believe the turnips in the Turnip Salad were Watermelon Turnips (although the menu on the site shows a different variety), which I had recently spotted at Whole Foods. The color was gorgeous and the taste was fantastic. I loved the freshness and bright flavors of this salad!
The Main Courses were next, Edamame Salad and Pumpkin Pot Stickers and Local Bok Choy in a Gingered Mushroom Broth. The Edamame Salad was small, but was much more filling than it looked. The Pumpkin Pot Stickers were my favorite of the two, but I am a bit obsessed with all things pumpkin.
Final course is dessert – which I had been looking forward to! I am a huge fan of Mochi, something I never can find these days. You'd think they'd have this more often at Japanese restaurants, but they rarely do. According to Wikipedia, Mochi is made from glutinous rice pounded into paste and molded into shape. It's a very chewy consistency which is hard to imagine if you've never tried it. My mom used to bring these treats back from Japan when she flew international routes (she was a Flight Attendant) and it was my favorite treat!!
Getting back to this dessert, we had the Red Bean Mochi and Chocolate Ganache Torte. The Mochi was perfect, yum! The Chocolate Ganache Torte was decadent and you the Almond Crust was a great accent flavor. The "ice cream" was made with real mint, which I've apparently never had before. It was such a fresh, clean flavor – truly minty. I never realized how used to artificial mint flavors I have become.
I love vegan restaurants, because I don't have to think or play 20 questions about what's in my dinner. It's such a relaxing experience to just enjoy and know that I'm eating whole foods, filled with nutrients, and no one was harmed in the process.
Gymnopedie was beyond even that, because it was an overall great experience. The intimate setting, beautiful presentation (which I'll capture better next time with a "real" camera), and friendly service was over the top. Whether you eat a plant-based diet or just like good food, I highly recommend adding this one to your list! The menu changes monthly, so I think it will be easy to have another excuse to head back to Athens without a football game.
By the way, I was not paid or compensated in any way for this review. I did mention to Sarah at the end of dinner that I would be writing up a review, but that was after the meal was over.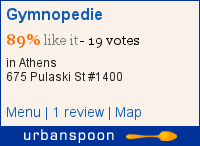 Question of the Day – What are your favorite flavors recently, either eating in or out? Kirk has been making fun of my pumpkin obsession recently, although he still gobbles up any pumpkin-flavored concoction.