Can you believe this week is already Thanksgiving week? It's so early this year, which makes it feel like we are already at the end of November!
Being that it's such a big food week, you might expect a very holiday-themed recipe today, but I'm not always so predictable. With onions as the key ingredient this week, I found myself with French inspiration instead of American.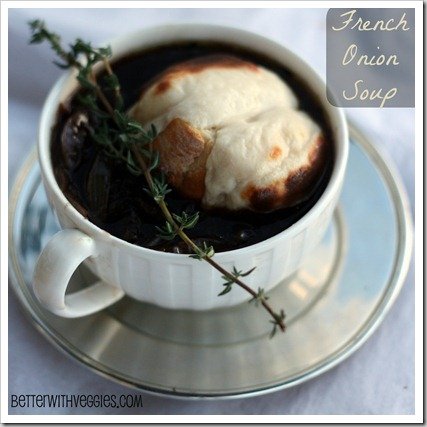 This is one of Kirk's favorite soups – one that when it's on the menu I know he'll be ordering it. Do you know what tastes very meaty, but is 100% plant-based? Mushroom stock! I don't see this at the store very often, so I thought this was a great opportunity to make our own. I search for a recipe online and used this recipe to make a big batch in the slow-cooker. I was so impressed at the flavor in this homemade version – we've already made two batches of it!!!
Other than the stock, the caramelized onions are the most time consuming part of this soup. If you've made them before, you'll remember it's not much active cooking time, but you do need to be patient while they cook.
I had two non-veggie taste testers in the kitchen this weekend (Kirk & Laura) who can vouch for the authentic flavor of this soup.
French Onion Soup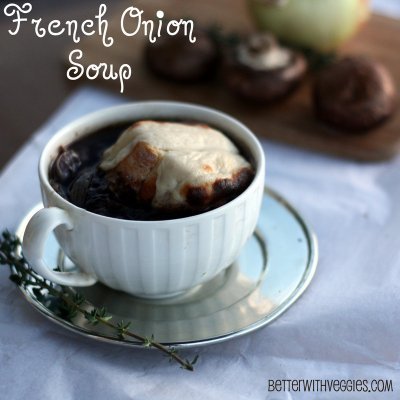 Keywords: sauté appetizer soup/stew side vegan vegetarian nut-free onion French
Inspired by Alton Brown's French Onion Soup
Ingredients
2 tablespoons non-dairy margarine (like Earth Balance Butter Sticks)
5 onions
6 cups mushroom stock
2 bay leaves
1 teaspoon dried basil
2 sprigs thyme
1/2 teaspoon white pepper
1 cup red wine
1 teaspoon salt
1 french baguette
Instructions
In a large pan, melt non-dairy margarine over medium heat. Add onions and stir to coat. Allow to cook without stirring for 25 minutes.
After initial 25 minutes, stir well and cook for an additional 10-15 minutes, stirring occasionally. You'll know the onions are done when they are soft and brown.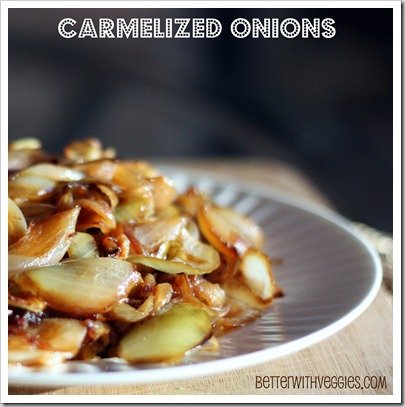 As the onions are almost caramelized, heat the mushroom stock over medium-high heat. Add bay leaves through salt. Add onions and simmer for 20 minutes. Remove thyme sprigs & bay leaves, before transferring to bowls for serving.
To make topping, cut baguette into 1/2-3/4 inch thick slices. Top with cheese slices and toast for about 5 minutes in a toaster oven. Turn to broil for an addition 3 minutes, or until cheese starts to brown and melt. Place cheesy baguette directly on top of hot soup and serve immediately.
And now it's time to see what onion creations you guys came up with for the week! Maybe someone else will have a more American recipe for Thanksgiving week?
********************
********************
Questions for you:
What's your favorite soup?
For Thanksgiving, do you stick with traditional dishes?