One of the best ways to keep motivated, focused, and improving each year is to create a race schedule.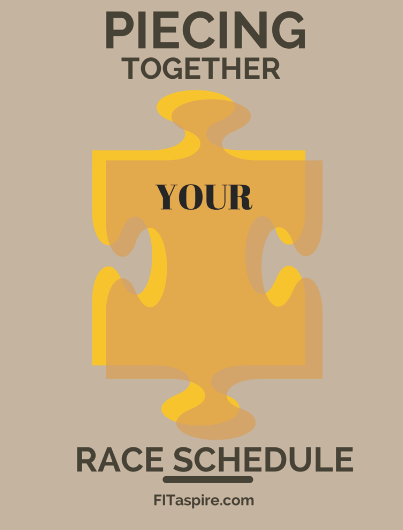 Creating a race schedule is a bit different than choosing a list of races. It's about creating a plan that includes priorities, because you can't race your best every weekend. Following these 4 steps will help you plan a year where perform your best at the most important races.
1. BIG Races
I recommend picking 1 or 2 "A" races a year that are your main goal. You can race often, but you won't be able to perform your best at every race. In reality you can peak twice a year, so choose 2 races that you want to do your best at (at least 3 months apart) and mark those as your key races for the year.
2. Training Milestones
Next I plan any milestone races that help to test training progress for my big races. For a marathon, I aim to race a half marathon 4-6 weeks before and marathon; a half ironman 8-9 weeks before an Ironman. You may have to do a bit of digging to find a race that lines up with you calendar and add that to your schedule.
3. Old Favorites
There are certain races that enjoy doing each year in your area. Assuming they don't conflict with any of your big goals, these are the next items to plan on your calendar.
4. Just for Fun!
If you enjoy racing, you probably still have a lot of space on your calendar you want to fill. This final category is for fun races where you won't taper, won't specifically train for it, but you'll get out and see what happens! I don't always plan these out ahead of time, but sometimes I will. 
Now you're ready to start thinking about your training for your new schedule. If you're working with a coach, they will be able to help you confirm your schedule (and goals) are realistic.
********************
Questions for you:
Have you planned your race schedule?
What race are you looking forward to most next year?