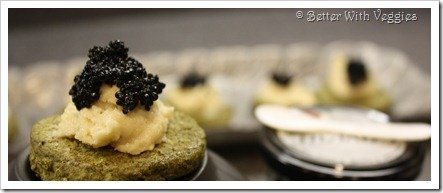 No, I have not fallen off the "Vegan wagon" – the tasty caviar you see in the photo above is 100% plant-based! Angela shared this on her blog at the end of October and I knew I had to order some. I immediately placed an order for Cavi-art from Plant Based Foods.
About a week later, Kristina shared her recipe for Spinach Blinis on her blog. With those two floating around in my head – Friday night appetizers were set. Blinis, Crème Fraîche, & Caviar!
The spinach blinis were delicious. Mild in flavor, which is a perfect pairing for the salty caviar. The crème fraîche was not my favorite recipe – it was too think and the flavor overpowered the caviar. We ended up adding a LOT of caviar to each while we were eating. I will try a different vegan recipe next time, looking for a lighter result.
The caviar was delicious! We ordered the black (obviously), as it looked closest to my favorite pre-vegan variety. Each "ball" had a very realistic texture and a satisfying crunch. The flavor was lightly salty and full of flavor. The best part – it's much cheaper than the original version AND no animals were harmed in the making of this version. 😉
The ingredients are fairly simple: Seaweed, water, salt and spice extracts, antioxidant, stabilizer, natural preservatives, natural color, (vegetable carbon). They offer many other varieties of caviar, which I fully intend to sample in the future!
My favorite pairing with caviar is sparkling wine and this evening was no exception. We enjoyed a bottle of Schramsberg Brut with our caviar, although I wasn't able to capture a great photo including the wine. I have not figured out the best way to capture food and drinks together yet.
If you are vegan and looking for a way to enjoy the flavors of caviar OR a non-vegan looking for a less-expensive alternative to caviar – I would recommend giving Cavi-art a try!