I have to admit that I completely forgot to share the February ingredients yesterday! I don't know how I forgot, but thanks to Sarah for reminding me on Instagram. Thank goodness for social media.
Before the big reveal for this month, let me remind you of how the challenge work! MMAZ (or Meatless Mondays from A-Z) is a food challenge to create (or cook) a meatless recipe using a featured ingredients. Each month I announce the two new ingredients to challenge your creativity and cooking skills! Participate in one or both weeks – it's up to you!
Create a recipe: The most popular part of the challenge is to develop an original recipe and share the photos & recipes on your blog. The goal is help you get creative and try something new, but you can also link up to a recipe you posted previously.
Cook a recipe: Once everyone has shared the original recipes, your next challenge is to cook a recipe using the featured ingredient. You are encouraged to cook a recipe shared on the first week (great way to build the community and make new friends!), although you can use any recipe you'd like. The only big rule is to never share the full recipe on your post, but we encourage you to link back to the recipe on the creator's website.
Changing Up Cook a Recipe
As I mentioned in January, I've been evaluating the format of MMAZ and this month we're going to try Megan's suggestion this month. Instead of a cook week immediately following each create week – we're going to do ONE cook week at the end of the month. For the month's cook week, you can use either ingredient from the month. I'm hoping this gives you more options to choose from!
Announcing the February Ingredients
Ready for the latest round of ingredients? Thanks to everyone who shared their ideas for this month – it really helped in picking these two awesome ingredients —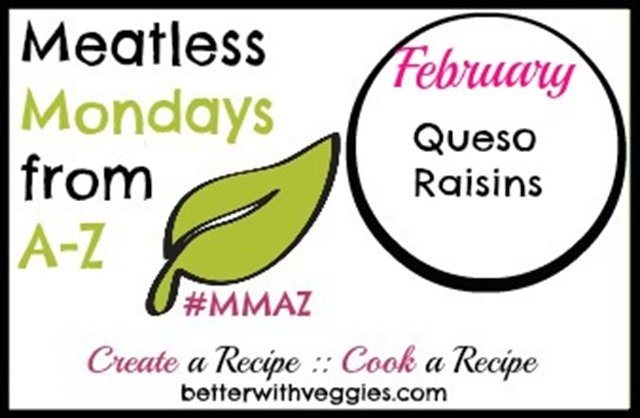 I hope you'll take the MMAZ challenge & join the fun! If you're not a blogger, you can still share your recipes on instagram with the #MMAZ hashtag.
February 10: Create with Queso
February 17: Create with Raisins
February 24: Cook with Queso or Raisins
I can't wait to see what you came up with next Monday for Queso!! I've got an idea already in mind that may involve my vegan Nacho Cheeze recipe.
*******************
Questions for you:
What do you think of the format change?