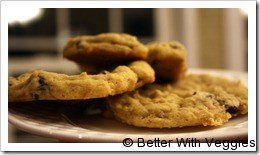 These delicious cookies are not my own recipe – and this is not the post I had planned tonight.
We had so much fun hanging out with our friends, devouring these cookies, that I have run out of time and it's closing in on midnight (gasp!).
These divine cookies are Emily's creation from Daily Garnish and are as good as she described. They were soft and moist – no hint of banana in the flavor. Our dinner guests were not veg, but they loved them too. So make your way over to Daily Garnish, grab the recipe and get to baking! You will love these cookies, I promise!