I can't believe we're already wrapping up the first month of Meatless Mondays from A-Z!! The first three weeks were so much fun, with so many fantastic recipes shared – I have several on my "to-make" list for the future. In case you're new around here, make sure you check out Artichokes, Beets, and Capers/Caperberries.
Today we're on D, which means lots of Dates have been consumed in our house this week. Dates are something I really didn't each much of until the this past year – I don't know that I really knew what they tasted like honestly.
Not only are they great in baking, they are one of my favorite easy snacks! I got the idea for dates stuffed with peanut butter & topped with chia seeds from Nada and it's remained one of those easy snacks to grab before running out the door.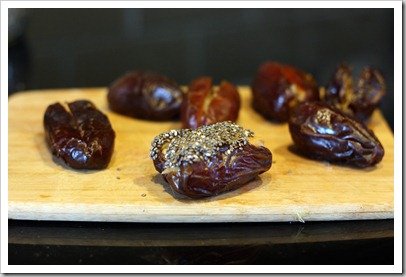 For this week's Meatless Mondays challenge, I decided to add dates to a bread recipe I originally created last weekend with chocolate chips. As is typical for banana bread, this started as a way to save a few bananas that were on their way out.
I decided to try my hand at a recipe without sugar, using the sweetness of bananas and pumpkin to get the right flavors. The first batch with chocolate chips was great, but I wanted it a smidge sweeter.
The final recipe includes more pumpkin and the sweetness of the dates helps too!
Date Pumpkin Banana Bread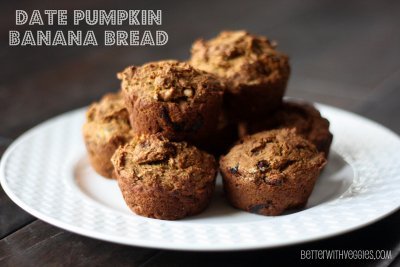 Keywords: bake breakfast bread vegan soy-free vegetarian banana date
Ingredients (1 loaf or 13 muffins)
4 bananas, over-ripe
2/3 cup canned pumpkin
1 egg-replacer (I used Ener-G)
2 tablespoons peanut butter
1 cup dates, pits removed and roughly chopped
1 1/2 cups whole wheat flour
1 teaspoon baking soda
pinch of salt
Instructions
Pre-heat oven to 350 degrees.
Mix together all ingredients, adding flour last.
Transfer bread to muffin pan lined with cooking spray. Bake for 30 minutes or until toothpick inserted into muffin comes out clean.
Remove from pan and enjoy!
Now it's your turn to share the date recipes you've created!
We'll be taking next Monday off in honor of Labor Day, but MMAZ will return the following week (September 10). Make sure you check out September's ingredients, in case you missed it last week.
I know I usually only post once per day – but today is also the start of a VERY special week. You should check out this awesome Vega Sport Recovery Pack giveaway!!!