What Clients are Saying about FITaspire
We offer endurance coaching to help you improve your performance, fitness coaching to help you reach your strength and body composition goals, and nutrition coaching to complement your training goals. We want to help you reach your fitness goals to help you live a long and active life! See Coaching Options
Mary Florida
The combination of strength training and running programmed by Heather truly helped prepare me for this course, which had hill after hill. I felt strong and sure through the entire race with enough energy left for a serious kick at the end to meet my A goal of a sub-2 hours!
The training is structured, but flexible. Heather helps me feel empowered to do all the workouts no matter what, and doesn't make me feel like I should be doing anything crazy (workout-wise).
Molly
Colorado
I have been training with Heather for eight months. She has pushed me to keep moving, helped me conquer a marathon, and helped me grow stronger as a person. I am not the fastest runner, but Heather has also helped me in that area as well. I can feel myself getting faster, and my body is not fighting it. With her help, I will conquer big things in 2017!
Melissa M Utah
After injuring myself, I felt like I just couldn't get back into a good routine. The Beginner Group Training has helped me feel like I can be fit again!
Leni
Georgia
Chris Korea
I have taken 15 minutes off my Olympic record, completed my first half ironman (smashing my goal time by 30 minutes), taken 15 minutes off my half marathon record and set a new 10k PB. All this in 5 months. I now see myself as an improving athlete, not a guy who is 'having a go'. If you want to achieve your goals, sign up. You won't regret it.
Working with Heather is the one program that has finally stuck. Her accountability approach to nutrition and fitness helps you learn proper macros and workouts for your body while you learn to own your results! Instead of telling you what you should or should not do, Heather makes you think through the answer so you learn what to change.
Lauren V
Georgia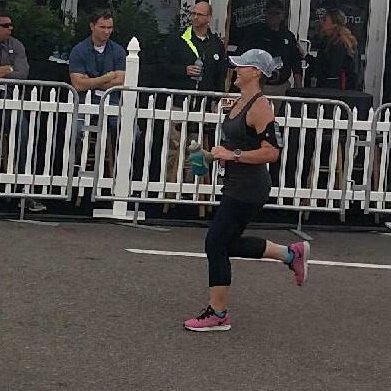 Mary Florida
My performance significantly improved since beginning training with Heather. I got a nearly 6 minute PR, which was only possible do to the tough treadmill training workouts. The course that I recently raced was hillier than I expected, but I was strong enough to push through all the hills and come out 3rd in my age/gender division and with the 6 minute PR! Thanks Heather!
I am working out more consistently and eating healthier than I have in a very long time. I even gave up my caffeine addiction, and have so much energy from these lifestyle changes!! :) Thank you for your expertise, passion, and amazing tips to become a healthier/happier version of myself!!
Emily B
Colorado
Before, I wouldn't really know what workout to do when and I found scheduling that on top of my work, etc. to be stressful. Now, I just look at the calendar and do the workout. I know that it's going to be a workout I can do (unlike cookie cutter plans that don't adapt to my training) even if it's a challenge. It's not overwhelming for me.
AnnaMichigan
After injuring myself, I felt like I just couldn't get back into a good routine. FitAspire's Beginner Group Training has helped me feel like I can be fit again!
Leni B
Georgia
ChristinaWashington
I absolutely cannot recommend a better coach than Heather. Her coaching style is very intuitive; she is great at putting together a manageable plan that is challenging without being overwhelming and one that works within your schedule. She took into account my current fitness level and abilities as well as my schedule and gave me a personalized plan that pushes me to be a better runner. Before I met Heather I was barely running 3 miles once or twice a week and constantly getting injured. In the time I've trained with Heather she has helped me heal my legs and I now run 3 days a week with plans of a spring half marathon. If you're looking for a great running coach, Heather is absolutely the best option if you want individualized training and the support of a great coach along the way.
I really appreciate having a structured, fun, inspiring and supported environment for me to increase my running ability. I find training to run very relaxing and a way to overcome some health issues...I already feel stronger and more confidence to run. Thank you FITaspire for your willingness to work with me and guide me to my end goal!
Cindy V
Colorado
Coach Kirk helped me break each workout down, encouraged me when I had a bad workout, and congratulated me on what I was able to accomplish each week. I simply could not have done it without him. When it came time to toe the line, I felt ready for anything. IMCDA threw the hottest temps on record at me, but thanks to Kirk, I ran a smart (albeit not a fast) race. I'm so grateful for his guidance, and because of it, I am an Ironman.
HeatherColorado
TaraWisconsin
My advice to anyone that can afford to, that has fitness goals, is hire a coach/personal trainer! They will keep you motivated and help you reach your goals faster and with less injuries. After 3 months with Heather I got a PR by 5 minutes in the half marathon despite tough weather conditions.
Ready to be a success story on this page? Find the Coaching Option that fits your goals.
---