it's the first Monday of April, which means it's time to announce this month's challenge ingredients for Meatless Mondays from A-Z! This is your chance to join in on a fun food recipe challenge, it's a great way to find new creativity in the kitchen.
In case you're new here,  let me take a minute to recap how the challenge works. MMAZ (or Meatless Mondays from A-Z) is a food challenge to create (or cook) a meatless recipe using featured ingredients. Each month I announce two new ingredients to challenge your creativity and cooking skills! Participate in one or both weeks – it's up to you!
Create a recipe: The most popular part of the challenge is to develop an original recipe and share the photos & recipes on your blog. The goal is help you get creative and try something new, but you can also link up to a recipe you posted previously.
Cook a recipe: Once everyone has shared the original recipes, your next challenge is to cook a recipe using the featured ingredient. You are encouraged to cook a recipe shared on the first week (great way to build the community and make new friends!), although you can use any recipe you'd like. The only big rule is to never share the full recipe on your post, but we encourage you to link back to the recipe on the creator's website.
Now that you know how it works, mark your calendar for next Monday and start thinking of new recipes featuring our first ingredient!
Announcing the April Ingredients
Ready for the latest round of ingredients? This was a really hard month – there aren't many foods that start with U. Maybe I should make some up?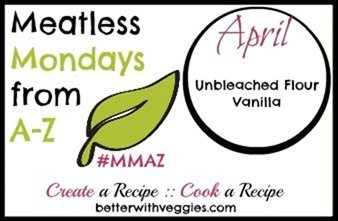 I hope you'll take the MMAZ challenge & join the fun! If you're not a blogger, you can still share your recipes on instagram with the #MMAZ hashtag.
April 14: Create with Unbleached flour
April 21: Create with Vanilla
April 28: Cook with Unbleached flour or Vanilla
I can't wait to see what you came up with next Monday!! I have no idea what I'm making yet, but we all have a week to figure something fun out, right?
*******************
Questions for you:
Any ideas floating around for these ingredients?