Hi! I'm Heather, the writer, coach, and recipe developer behind FITaspire. I live in Denver with my husband (Kirk) and two dogs (Abbott & Zurie). During the day, I'm the Digital Strategy Director at a medical device company. I am also a certified personal trainer and coach, which is where FITaspire Training comes into the picture. Since 2012, Kirk and I have had the opportunity to help athletes reach their goals through the online coaching side of this website.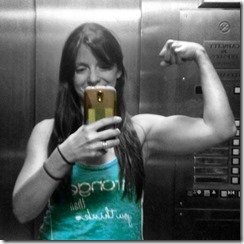 Fitness
Fitness is a big part of my life – it helps give me energy to enjoy everyday life and travel adventures! It helps me hike mountains, run to explore new cities, snowboard through the winter, and be ready for whatever activity looks fun next. The type of workouts I personally enjoy have a goal at the end to keep me challenged and motivated . There's no "right way" to get fit, so I encourage you to try different things to find out what you enjoy! I use the tag #MoveHappy as a way to remind myself (and you) that fitness should make you smile!
My personal fitness journey as an adult started with a  I was a dancer growing up in 2002, which turned in a love of running, duathlon & triathlon. To date, I've completed 8 marathons, 1 ultra marathon, 1 Ironman, and countless other road and trail races. In addition to endurance sports, I've also discovered a love for the gym and strength training, which led to my first NPC Bikini Competition! In 2014, I have running, duathlon, and a second bikini competition on my calendar – all things that currently keep me motivated to move and make me smile.
With all this fitness love, how about the fuel?
I love food! As an athlete and coach, I have learned how important nutrition is as part of your overall fitness plan, but sometimes I just want to enjoy food for the flavors and experience that comes with it. My goal is to balance the two in a way that fuels my body to perform either on the stage or on the race course, but with flexibility to enjoy an amazing 5-course dinner when the opportunity presents itself.
I don't follow any specific diet, although I have been plant-based or pescatarian for much of the past three years. Today, I choose to be a conscientious omnivore, which means I seek out organic, humanely-raised, natural foods as much as possible. I eat a diet heavy in veggies, protein, and flavor! I share recipes that fit all sorts of eating preferences and try to share adaptions whenever possible.
FITaspire Training
One of the ways I express my love of fitness is through coaching others to reach their goals and aspirations! Since 2012, Kirk and I have been helping runners, triathletes, and duathletes of all abilities through online coaching. We offer several levels off training plans to help you find an option that meets your budget & preferences. Learn about the services we offer, meet the coaches, read testimonials from other athletes, & then apply online!
Join the FITaspire Community
Stay up to date with all the happenings on FITaspire with our email newsletter! By signing up, you'll get an email each time a new post is published, including occasional exclusive content for email subscribers only! We don't spam you and will never sell your email address. We might motivate you to #MoveHappy, cook something new, try a new workout, or go shopping. Those are all completely optional, though!
Other ways to connect with Heather
If you're a company or brand seeking partnerships: I'm open to discussing creative ideas to work together. Please see my Media page for more information. I am not accepting unsolicited guest posts. And please don't add me to your press release list.