It's been almost three years since we moved from Georgia to Colorado. I was most excited to move here for the snowboarding, but I've been branching out to more outdoor adventures every year. The first year was all about hiking, culminating in my first 14er. Last year we tackled our first hut trip, woefully unprepared in the spring snow. That trip sparked the purchase of a real outdoor backpack and adding weight to my next two 14ers. This year, we've added fly fishing and backpacking to our list. And I am already hooked!
We originally planned our first trip for Memorial Day weekend, but we postponed all our plans due to all the rain we had in May. With Father's Day weekend free (my family is still in Atlanta), we started planning! Kirk wisely suggested we start with a 1-night trip, to make sure this is something we would really enjoy. I tend to want to jump in with both feet and overdue things. Shocking, I know.
After researching beginner spots within a few hours of Denver, we decided that Rich Creek Trail in the Buffalo Peaks Wilderness was the best spot for our first adventure. The trail is a well-marked loop, just under 12 miles total length, with about 2000 feet of ascent – perfect for beginner-intermediate hiking & backpacking.  We planned to hike halfway on Saturday afternoon, camp overnight, and complete the loop out on Sunday afternoon. We also brought our new fly fishing rods, so we could break in the new equipment and try fishing without a guide.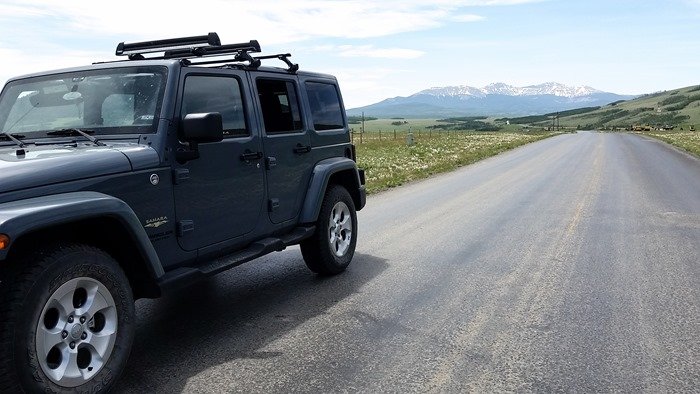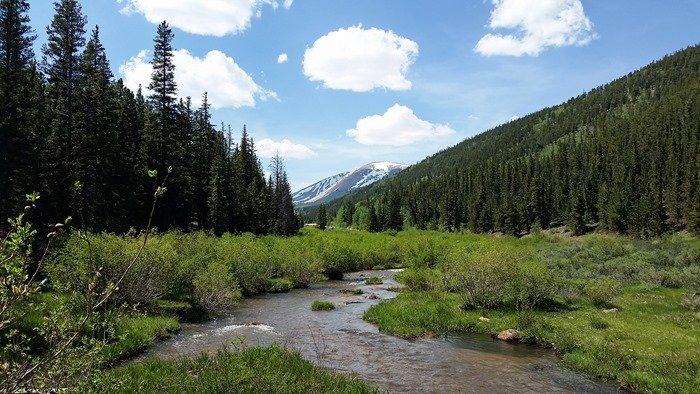 The trip immediately started with a curveball, as the main trailhead was completely flooded when we arrived. The water filled the trail for as far as we could see – at least 16 inches deep. Unsure how far the water spread, we drove to another marked trailhead to find another way in. Although the second trailhead was clear, parking was reserved for those camping onsite, so we headed back to the Rich Creek trailhead to debate our options. We decided to hike along the road for the first mile to reach the Ridgeview Trailhead and hike in from there. The distance ended up being about equal, although obviously not as scenic as hiking through the woods.
We reached the Rich Creek trail after about 1.8 miles without much incident. I was excited to see that all our gear was sitting comfortably in our packs, hiking boots felt great, and my legs were just a bit tired from the climbing (expected after my week of workouts). As we continued the hike out to the meadow, the only surprise was all the water. The "creek" was more of a rushing river and spread onto the trail to create new streams down the trail. It was fairly easy to avoid the water, but we both wondered what things normally look like here.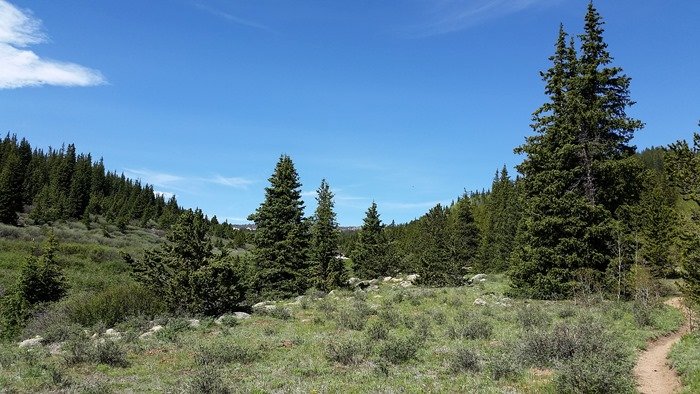 Once we reached the meadow, the water crossings became more difficult. For the next few miles we frequently found the trail completely washed out, with swiftly moving water crossing the trail and overtaking a good deal of the path itself. We weaved our way through brush and trees to find spaces where we could jump across.